Mildly Cleanses | Moisturizes | Tones the skin
Buy 1 Get 1 FREE at 7th Birthday Sale
Up to 7 FREE Gifts with Every Order
+ Exciting Prizes for 7 Lucky Winners Every Day
Your skin's daily dose of caffeinated moisturization! Packed with Latte Coffee Face Wash and the intensely moisturizing Latte Coffee Moisturizer, the Daily Skin Moisturizing & Repair Routine is something your skin would never want to skip.
View full details
Why should you buy it?
Ingredients
How to use it?
FAQs
Reviews
You may also like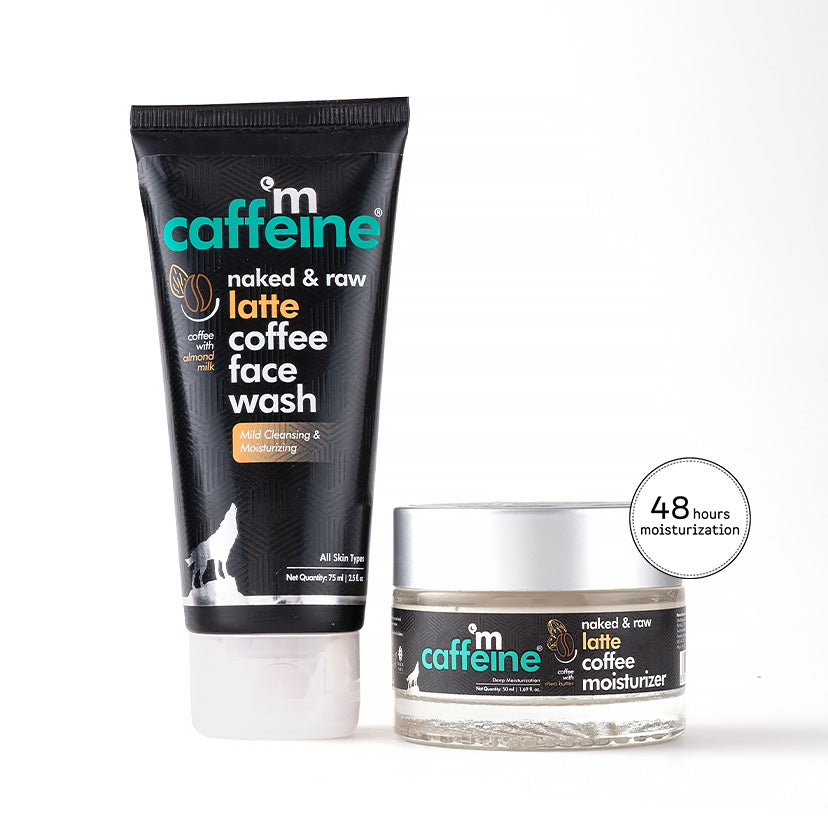 Mildly Cleanses and Tones Skin
This kit has Almond Milk and Coffee that mildly cleanse to get rid of dirt and impurities gently. Coffee also tones the skin.
48 Hour Moisturization
Loaded with intensely moisturizing and nourishing Shea Butter and Ceramide, this Kit provides moisturization that lasts for 48 hours.
Heavenly Aroma
Apart from the moisturizing and repairing superpowers, the Daily Skin Moisturizing and Repair Kit - Latte Coffee Routine comes with the soothing aroma of Coffee that calms the senses.
Products
Latte Coffee Face Wash
Coffee and Caffeine tone and soothe the skin, Almond Milk mildly cleanses and moisturizes and Shea Butter moisturizes dry skin.
Latte Coffee Face Moisturizer
Provides moisturization for 48 hours. Coffee and Caffeine repair damaged skin barriers, Shea Butter deeply moisturizes, Ceramide improves skin's moisture barrier.
How to use
Step 1: Cleanse
Squeeze a small amount of the Latte Coffee Face Wash on your palm.
Apply on a damp face to work up the lather and avoid contact with the eyes.
Wash it off thoroughly with water.
Step 2: Moisturize
Apply the Latte Coffee Face Moisturizer evenly to the face and neck after cleansing.
Gently massage it in an upward circular motion.
Frequently Asked Questions
Why Coffee For Skin?
Coffee is a skin superfood that fights free radicals and is rich in caffeine and antioxidants that help polish and condition the skin.
How should I apply the Daily Skin Moisturizing & Repair Routine?
The routine should begin with the face wash, and be completed with the moisturizer.
Will the kit moisturize and repair skin?
The Daily Skin Moisturizing & Repair Routine contains the benefits of Coffee, Shea Butter, Almond Milk and Ceramide that work together to nourish and moisturize the skin, refining uneven skin and healing any dry areas over time.
Which skin type is this suitable for?
The mCaffeine Daily Skin Moisturizing & Repair Routine is suitable for all skin types.
Is it free from harmful chemicals?
The kit is completely free from SLS, Paraben and other harmful chemicals. It is 100% Vegan, Peta Certified Cruelty-Free, Dermatologically Tested & FDA Approved.
Daily Skin Moisturizing & Repair Routine.
It's smooth and light to apply and it gets well absorbed into the skin. The mild smell of coffee is really good. Thank you mcaffiene.
Daily Skin Moisturizing & Repair Kit - Latte Coffee Routine
Daily Skin Moisturizing & Repair Kit - Latte Coffee Routine
So good
This product is so good I feel my skin verry moisturize and it get absorbed quickly leaving your skin flawless and moisturize