Enhances Glow | Reduces Dark Spots & Pigmentation | Boosts Sun Protection
Special Offer for Serum Users
FLAT 20% OFF | Code: SERUM20
A powerful glow-boosting serum that is triple loaded with antioxidant-rich ingredients Vitamin C, Green Tea & Caffeine, it helps reduce dullness, dark spots and discolouration, leaving skin even-toned, refreshed & glowing. 15% Vitamin C in the serum works its magic by fading uneven skin tone and fighting oxidative stress, 1% Caffeine and Green Tea work together to soothe inflammation & boosts sun protection. 95% of users saw improved skin glow as well as experienced hydrated skin for up to 24 hours. Also, the users noticed that the potent serum provides a 63% reduction in dark spots & pigmentation. This lightweight, water-based formula absorbs easily into the skin leaving it hydrated & refreshed. It comes in a specially coated bottle to prevent Vitamin C's oxidation & retain its efficacy and stability.
95% of users agreed the product improved skin glow and experienced 24 hours hydration
63% reduction in dark spots & pigmentation
Consumer study by CAP (College of American Pathologists) & NABL (National Accreditation Board for Testing and Calibration Laboratories) accredited laboratory
Read More
View full details
Why should you buy it?
Ingredients
How to use it?
FAQs
Reviews
You may also like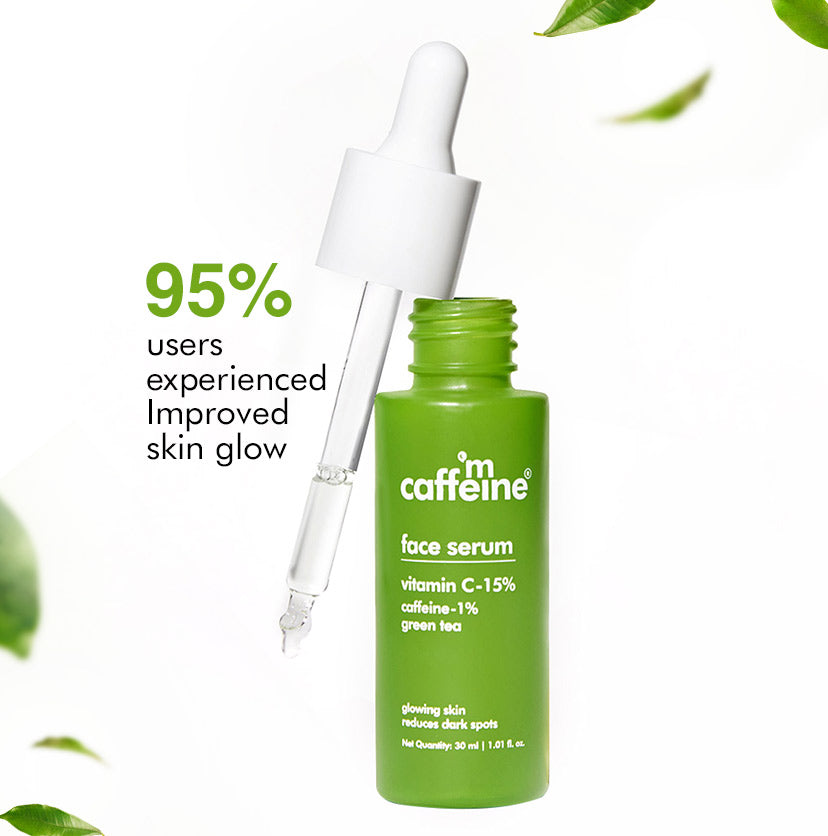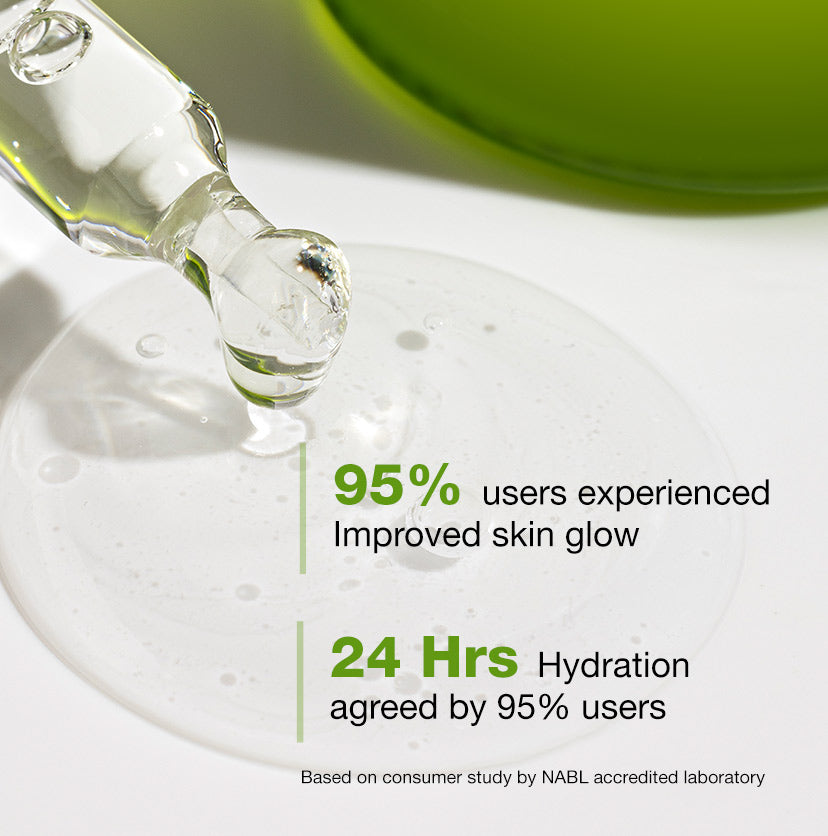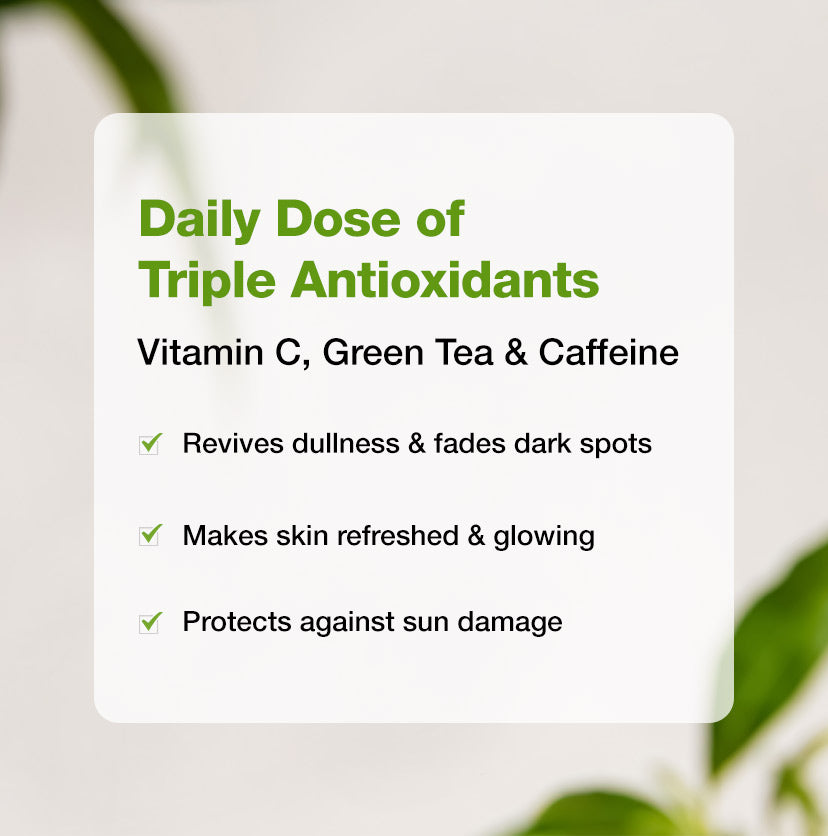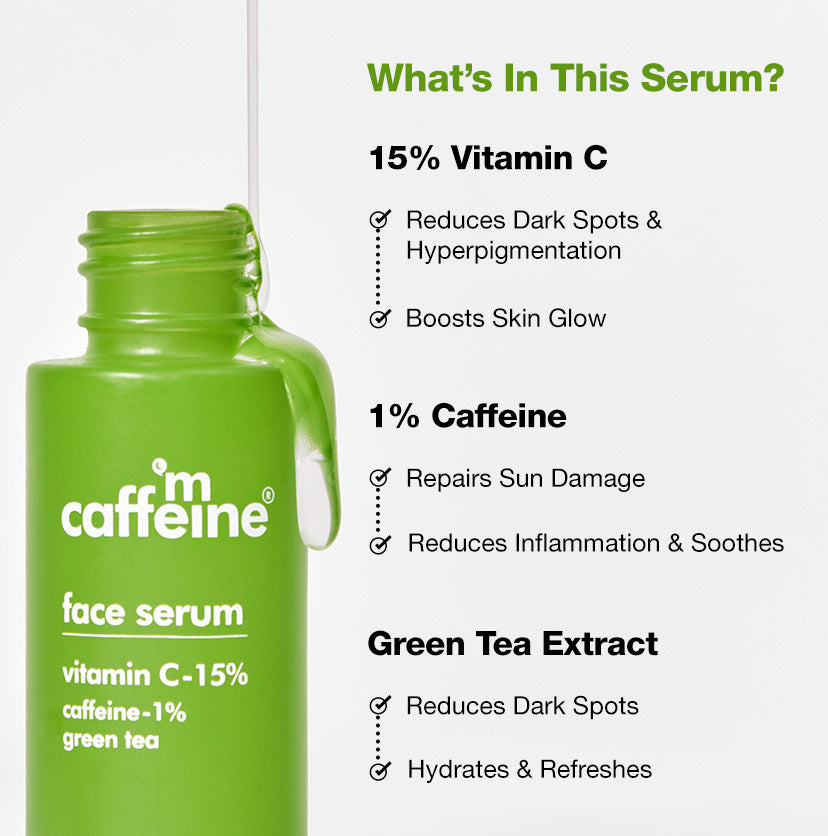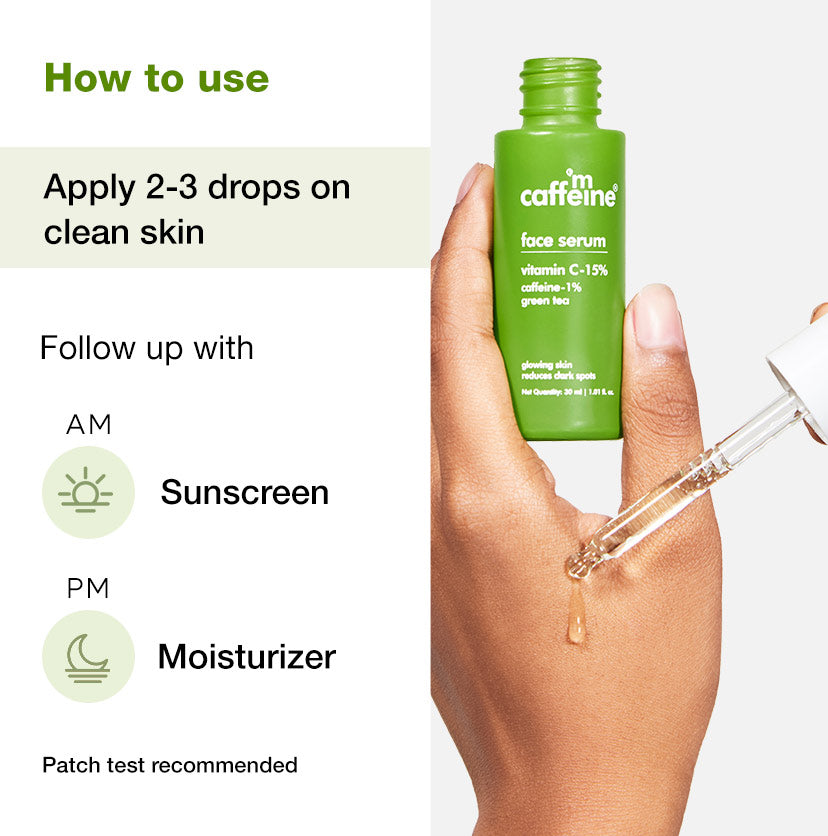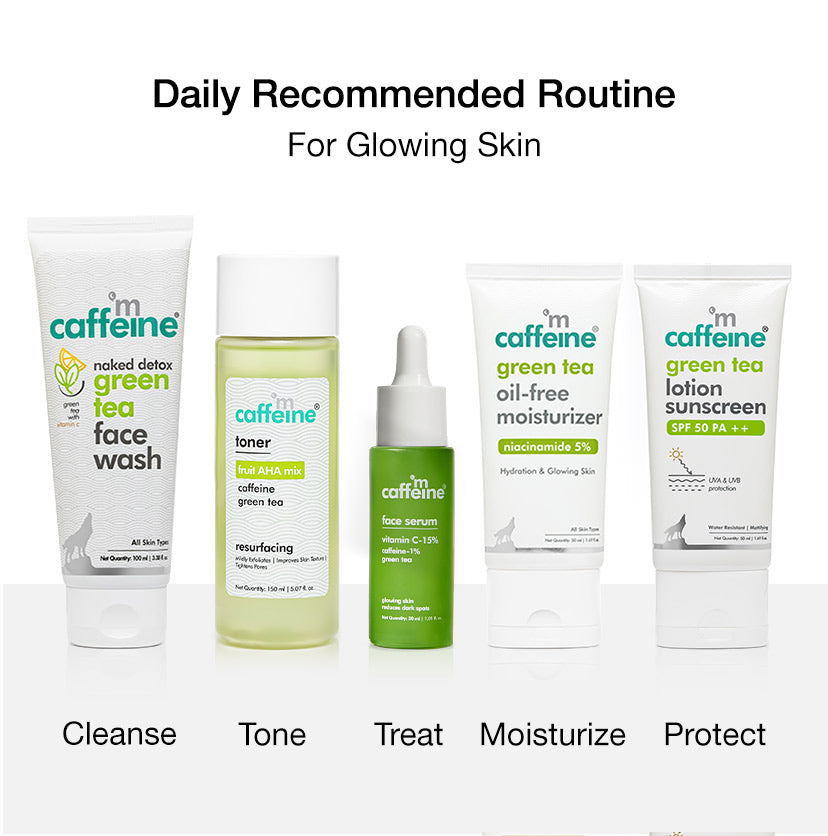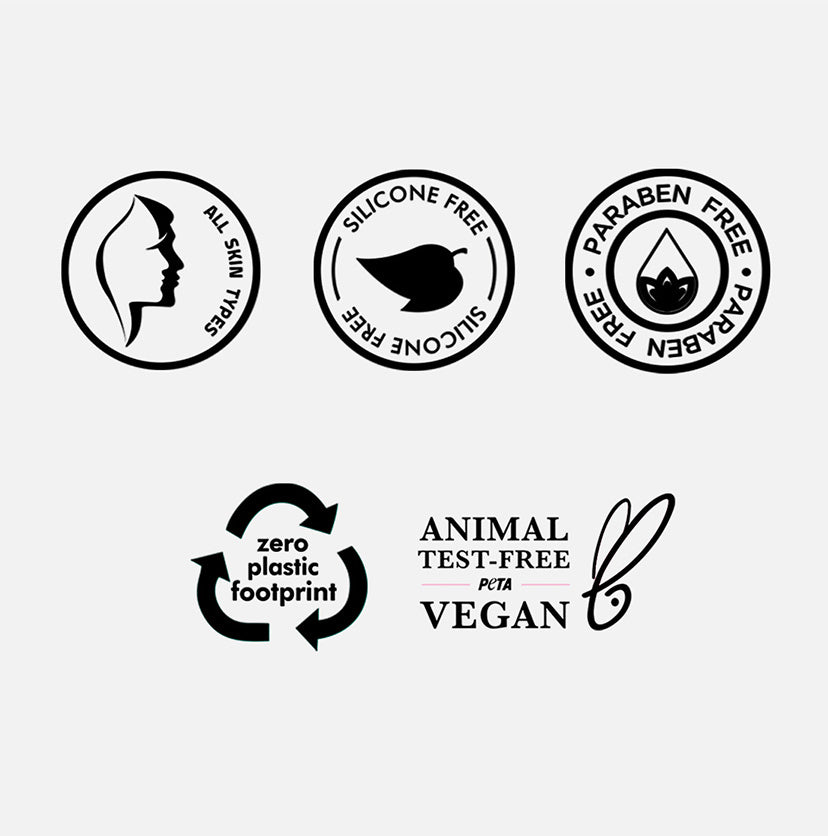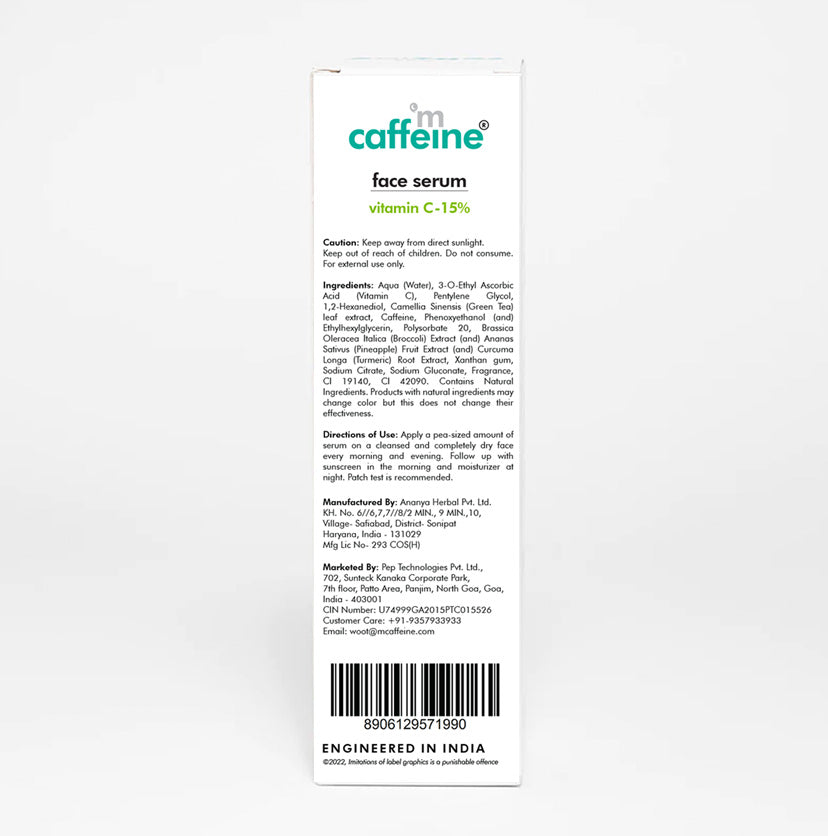 Enhances Glow
It is triple loaded with antioxidant-rich ingredients including Vitamin C, Green Tea & Caffeine, and helps reduce dullness, leaving skin refreshing, hydrated & glowing. 95% of users agreed and saw improved skin glow and hydrated skin for up to 24 hours.
95% of users agreed the product improved skin glow and experienced 24 hours hydration
Based on study by NABL accredited lab
Reduces Dark Spots & Pigmentation
This potent serum is enriched with antioxidant-rich trio - 15% Vitamin C, Green Tea & Caffeine, which work together to reduce dark spots and hyperpigmentation, making skin even-toned and lending it a spot-less glow. Users experienced a 63% reduction in dark spots & pigmentation.
Based on study by NABL accredited lab
Boosts Sun Protection
Vitamin C along with natural sun protecting agent Caffeine, guards the skin from sun damage and repairs UV damage, thus shielding your skin from stubborn sun-spots and premature ageing.
Ingredients
15% Vitamin C
A potent antioxidant that reduces dark spots, pigmentation & uneven skin tone. It also protects skin against sun damage & oxidative damage!
1% Caffeine
Antioxidant powerhouse Caffeine, tones & soothes the skin while reducing redness & inflammation for fresh & glowing skin from within.
Green Tea Extract
Antioxidant rich Green Tea, controls oil, reduces dark spots, soothes redness & inflammation.
How to use
Step 1:
Apply 2-3 drops on cleansed face and neck
Step 2:
Gently pat it in until absorbed
Step 3:
Follow up with a sunscreen during the day & moisturizer at night
Patch test recommended
Apply the product to a small area to test if your skin is sensitive to it
Frequently Asked Questions
Does 15% Vitamin C help in enhancing skin glow?
Green Tea Face Serum with 15% Vitamin C is loaded with antioxidants that boosts skin glow. Vitamin C reduces dark spots & pigmentation, oxidative damage in skin, protects it from sun damage, transforming dull skin with an enhanced skin glow.
What are the ingredients of Green Tea Face Serum with 15% Vitamin C?
This face serum for glowing skin contains 15% Vitamin C that reduces dark spots and pigmentation, protects against sun damage and revives dull skin with a healthy radiance. Antioxidant-rich Caffeine reduces skin inflammation as well as soothes & tones it. Green Tea Extract reduces dark spots and inflammation.
What storage measures help to keep the active ingredient, 15% Vitamin C, UV protected/ effective?
Green Tea Face Serum with 15% Vitamin C is packed in a coated bottle that helps to retain the efficiency of the active ingredient, Vitamin C. However, it is recommended to store the bottle in a cool, dark place.
Does Green Tea Face Serum with 15% Vitamin C cause irritation to sensitive skin?
Green Tea Face Serum with 15% Vitamin C is suitable for all skin types. Making it the best face serum for everyone. However, a patch test is recommended if you have sensitive skin.
Can Green Tea Face Serum with 15% Vitamin C be used twice a day?
Yes. Use Green Tea Face Serum with 15% Vitamin C daily after cleansing & toning skin. Apply 2-3 drops of serum on skin. Pat gently until absorbed. Follow up with moisturizer and sunscreen in the day & face oil or moisturizer at night.
Is it necessary to use sunscreen after applying this serum?
Yes, for optimal protection, use sunscreen during the day after using the Vitamin C serum. Exposing your skin to the sun will make it more sensitive to UV damage.
What are the safety measures to be kept in mind while using this product?
Use of sunscreen after using this product is a must. The serum is infused with active ingredients that work on the surface as well as deeper levels of the skin. Therefore, it is advised to avoid using chemical-based products after the application of serum as this may cause skin irritation or decrease the efficacy of the product.
Definitely Yes!
This is my first bottle of Vitamin C serum. I got it when M Caffeine was giving B1G1 sale. I got two products using that & one of them was Vit C serum. I have a highly oily skin but using this serum doesn't bathe me in sweat. I use it on cleansed face, two times a day - Morning & Night. My skin looks a lot better than yesteryears skin health. It provides hydration without making my skin oily. It gets absorbed on normal humid days in Kolkata. On days of high humidity, it takes some time to absorb but won't feel heavy on skin. I use 3 to 5 drops per day. I have been using it for three weeks now. Definitely a yes!! A big one for sure.
Awesome product ❤️
To be honest this is the best serum I have ever used..❤️❤️❤️❤️
I'm enjoying the benefits of the vitamin c face serum, my face is very shiny and glowing.
Good product
I am trying first time so I feel so better my skin
More information on the product
Additional Information
Make your skin glowing with mCaffeine's Vitamin C serum
Introducing our extraordinary green tea serum that enhances your radiance; it has a robust combination of antioxidant-rich components like Vitamin C, Green Tea, and Caffeine. You can achieve a wonderfully even-toned, revived, and bright complexion as a result of the triple-loaded formula's excellence. This green tea face serum helps combats dullness, dark circles, and discolouration.

This Vitamin C serum performs its magic by reducing skin tone discrepancies and preventing the damaging effects of oxidative stress by unleashing the strength of 15% Vitamin C. The combination of 1% caffeine and green tea has a calming effect, decreasing inflammation and enhancing UV protection.
Importance of green tea face serum
Improves complexion: With this serum for glowing skin, enhanced with a potent blend of antioxidants like Vitamin C, Green Tea, and Caffeine, you may experience unparalleled skin rejuvenation. This extraordinary product successfully fights dullness and leaves your skin feeling moisturised, renewed, and radiantly beaming. Join the majority of pleased customers who have seen increased skin radiance and the advantages of fully hydrated skin that last for up to 24 hours. 95% of users have seen these miraculous effects.
Decrease in pigmentation and dark spots: The potent combination efficiently reduces dark spots and blemishes through a synergistic action that leaves the skin looking flawlessly even-toned. The astonishing 63% reduction in dark spots and pigmentation that our pleased users have seen attests to this serum's transformational powers. Experience the assurance that comes with a complexion that is noticeably brighter and more radiant with our vitamin C serum for the face.

Help protect from sun rays: You can protect your skin from sun damage by combining the natural UV protection ability of caffeine with the protective power of vitamin C. This combo efficiently fights against early ageing brought on by sun exposure by protecting your skin from UV damage while also repairing stubborn sunspots.
Key Ingredients of mCaffeine's green tea face serum
Vitamin C: Make use of our powerful antioxidant, which successfully reduces pigmentation, black spots, and inconsistent skin tone. But it doesn't stop there all; it also serves as a shield, guarding your skin against cellular ageing and the negative effects of the sun.

Caffeine: Discover the amazing benefits of caffeine, an antioxidant powerhouse that works miracles for your skin. This powerful substance effectively lowers redness and irritation while also toning and soothing your skin, giving you a glowing complexion that radiates from the inside.

Green tea extract: This extraordinary component not only aids in reducing excessive oil but also successfully lessens the visibility of black spots. Additionally, it does wonders in reducing inflammation and redness, giving your skin a serene, fresh appearance.
Why choose mCaffeine for skin and hair care products?
Because why not? mCaffeine is one of the leading and trusted skincare brands that promote using organic ingredients to ensure your skin is not harmed. Apart from Vitamin C serum online, you can shop for other skin care products such as Face wash, Scalp lotion, Hair serum, and Face scrub. We continuously strive for innovations which result in an effective and safe product that enhances your skin and hair quality.
FAQ's

1. How to use a green tea face serum?
Take 2-3 drops of the green tea face serum and apply it to your face. Let it get absorbed. And then use our sunscreen post-application of it.
2. Can the serum help reduce dark spots and hyperpigmentation?
Yes, one of the main benefits of the vitamin C serum is that helps in reducing dark spots and hyperpigmentation. The presence of green tea extracts and vitamin C helps in doing so.
3. Will the serum help improve an uneven skin tone?
The combination of these 3 powerful antioxidants helps in improving an improved skin tone. It does so by fighting dullness and ensuring that harmful toxins do not enter your skin and damage it. It moisturises the skin and improves the skin tone.
4. How often should I use the serum to see results?
Use the serum twice, in the morning and evening, every day to see effective results.
5. Can the serum be used under makeup?
Use the serum before you apply your makeup so that it acts as a protective barrier and so that make up does not come in contact with your skin directly.