Deeply Moisturizes | Removes Dry Skin & Tan | Softens & Smoothes Skin
FREE Green Tea Face Serum worth 645 on orders 599+
FLAT 15% OFF + 10% Cashback on Prepaid Orders | Use Code: MC25
Rich Coffee-Almond blend that transforms you to a place of bliss and leaves you with deeply moisturized, smooth and tan-free skin in just 2 steps! The Body Polishing Kit with Almonds Kit contains creamy Coffee body scrub that gently yet effectively exfoliates skin to remove dry skin & tan while the body butter in it leaves skin deeply moisturized. Together, the duo prevent ingrown hairs, repair & protect skin from sun damage as well as target cellulite and appearance of stretch marks.
The combo contains: 2 products
Coffee Body Scrub with Almonds: 200g
Coffee Body Butter with Almonds: 100g

Read More
View full details
Why should you buy it?
Ingredients
How to use it?
FAQs
Reviews
You may also like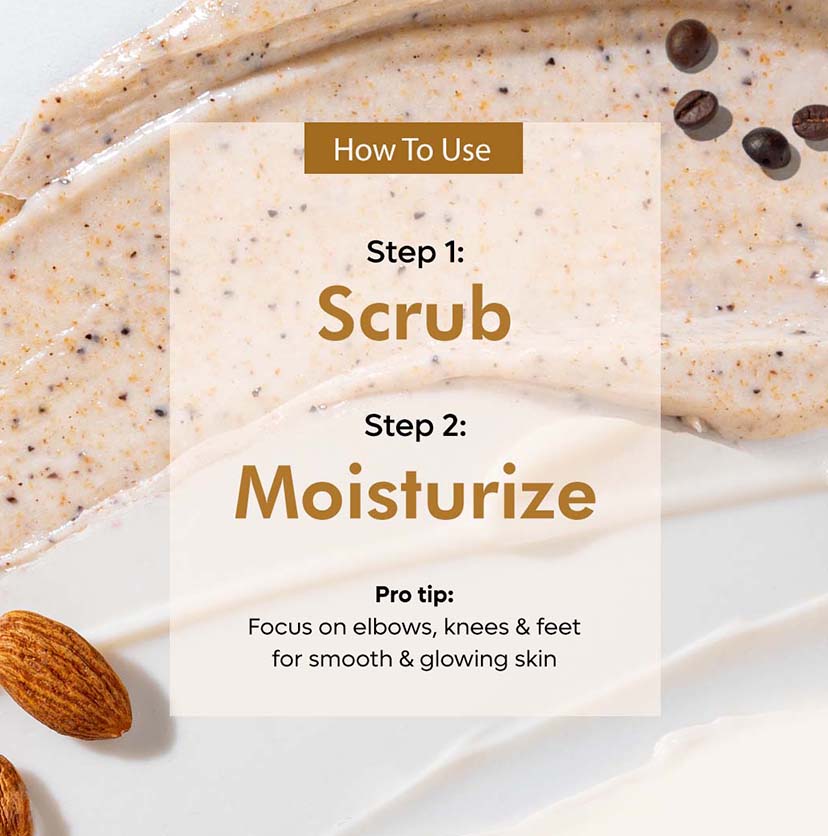 Rich Coffee-Almond Aroma
An aromatic blend of refreshing Coffee beans and warm notes of Almonds invigorates the senses to lend a luxurious in & post shower experience.
Deeply Moisturizes
Enriched with the goodness of Almonds & Shea Butter, the body butter provides deep, long-lasting & non-greasy moisturization.
Removes Dry Skin & Tan
The powerful yet gentle blend of Pure Arabica Coffee & Walnut helps get rid of dryness and tan and the buildup of dead skin cells to reveal irresistibly smooth skin.
Softens & Smoothes Skin
The creamy coffee body scrub gently exfoliates to make skin smooth while the body butter intensely moisturizes, to soften dry patches, soothe itchy skin and leave it irresistibly smooth.
Products
Coffee Body Scrub with Almonds
A creamy blend of Coffee & Almonds that exfoliate mildly to remove dry skin & tan and reveal soft & smooth skin. Regular use of this scrub will also prevent ingrown hair and reduce the appearance of stretchmarks and cellulite.
Coffee Body Butter with Almonds
An intensely smooth & buttery rich formula that deeply moisturizes skin while its uplifting and rich aroma leaves skin refreshed and energized. Formulated to deliver intense moisturization, it softens dry patches, soothes itchy skin to leave skin irresistibly smooth.
How to use
Step 1: Scrub
Apply on damp skin
Gently scrub for a few minutes focusing on elbows, knees and neck
Rinse & pat dry
Step 2: Moisturize
Apply Body Butter liberally
Massage it gently all over the body
Let it absorb completely for deep moisturization.
Frequently Asked Questions
What are the benefits of Coffee Body Scrub with Almonds ?
Creamy Coffee Body Scrub with Almonds mildly exfoliates, while removing tan and restoring skin's moisture. Power duo Pure Arabica Coffee and Walnut in it helps get rid of dead skin to leave skin soft and smooth. Rich and nourishing Almonds repair and protect skin from sun damage as well as moisturize it. Antioxidant rich Caffeine soothes and tones skin.
When should Coffee Body Butter with Almond be used?
The body butter can be applied after using the scrub or anytime your skin needs a quick dose of moisturization. Apply body butter liberally all over the body and gently massage on the skin for better product absorption.
Where to use Coffee Body Scrub with Almonds?
The Coffee Body Scrub with Almonds is a full body scrub that gently exfoliates to remove tan, dead skin, dryness without making the skin dry. While using the scrub, focus on the knees, elbows and feet as dead and dry skin tends to build up more on these areas.
Can I use this combo every day?
Coffee Body Scrub with Almonds is a cream-based formula that is gentle on the skin. We recommend using it 2-3 times a week. Use Body Butter on cleansed skin every day or whenever your skin needs a soft and healthy glow.
Which skin type is the combo suitable for?
The products in this combo are made with natural and vegan ingredients that makes them suitable for all skin types. These gender-neutral products can be used by both men and women.
Instant glow and smooth like butter
Coffee & Almonds Scrub-Moisturize Duo
review on m'caffeine body butter
Both Amazing products,Scrub is very gentle & provides instant glow. Also moisturizer is like butter so smooth and light. Small qty. is enough for daily moisturizing. Smell of coffee is overwhelming,loved it!!
Very amazing product it hydrates n exfoliate so well in love with it❤❤❤