Instantly Hydrates | Controls Oil | Tightens Pores
Buy 1 Get 1 FREE at 7th Birthday Sale
Up to 7 FREE Gifts with Every Order
+ Exciting Prizes for 7 Lucky Winners Every Day
A unique blend of Hyaluronic Acid & Coffee, this alcohol-free toner hydrates skin for up to 24 hours while maintaining its natural pH balance! Apply it on your skin after cleansing to remove excess oil, dirt and tighten pores. Infused with antioxidants rich Caffeine, it soothes and tones skin to reduce the appearance of pores and puffiness. Formulated to instantly hydrate and refresh skin in just 1 application, the non-drying toner visibly improves skin tone. This lightweight & gentle skin toner is suitable for all skin types!
100% users experienced instant hydration, improved skin tone and refreshed skin after one application.
95% pore tightening
*Based on gene expression study
Read More
View full details
Why should you buy it?
Ingredients
How to use it?
FAQs
Reviews
You may also like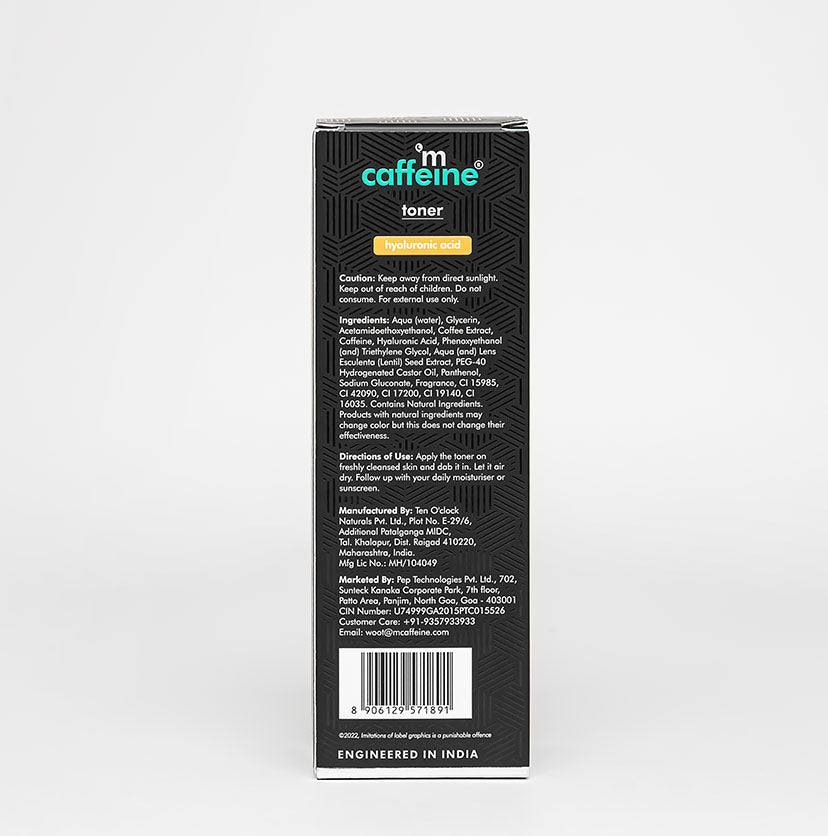 Controls Oil
A non-sticky formula infused with the goodness of Coffee, keeps excess oil at bay, making it suitable for all skin types including oily skin.
Tightens Pores
The hydrating toner gets absorbed into the skin easily to tighten enlarged pores, reduce their appearance and enhance the absorption of other skincare products.
95% pore tightening
*Based on gene expression study
24 Hours Hydration
Hyaluronic Acid in this face toner gives skin a boost of instant hydration, leaving it plump, glowing and dewy.
100% users experienced instant hydration
Alcohol Free
The toner is alcohol free and won't irritate the skin, this makes it suitable for all skin types including dry and sensitive.
Ingredients
Hyaluronic Acid
Hydrating hero Hyaluronic Acid retains moisture in the skin and keeps it hydrated for a long time.
Coffee
Enriched with super ingredient Coffee, this toner keeps excess oil and impurities at bay and refreshes tired skin.
Caffeine
Antioxidant-rich caffeine naturally tones and soothes the skin while also reducing redness and inflammation.
How to use
Step 1:
Apply the toner on freshly cleansed and dried skin.
Step 2:
Gently dab it in and let it air dry.
Step 3:
Follow up with sunscreen during the day and moisturizer at night.
Frequently Asked Questions
What are the benefits of Coffee Toner with Hyaluronic Acid?
Toner with Hyaluronic Acid & Coffee is a lightweight skin potion that offers instant hydration. It is non-drying and helps to maintain skin's pH balance. This toner for face is loaded with antioxidant-rich Caffeine for pore tightening and Coffee that removes excessive oil and impurities. Hyaluronic acid offers an instant hydration boost, leaving you with fresh and glowing skin.
How often should you use a toner?
Toners are an integral part of daily skincare routine and should be used twice a day after cleansing and before applying moisturizer.
Is Coffee Toner with Hyaluronic Acid suitable for all skin types?
Yes! The alcohol-free formula is gentle on the skin and does not cause dryness or irritation. This makes it the best toner for all skin types.
How does Hyaluronic Acid in the toner benefit the skin?
Hyaluronic Acid in this toner hydrates and plumps skin, transforming dull, lifeless skin into fresh and healthy skin. This makes it the best toner for glowing skin.
What should be the routine of Coffee Toner with Hyaluronic Acid?
Use Coffee Toner after the use of a mild cleanser. Once the skin is free from dirt, oil and other impurities, apply the toner and pat it in. Follow up with the use of sunscreen in the day and moisturizer at night. For best results, pair it up with Coffee Face Wash & Coffee Oil-Free Face Moisturizer.
Is the Coffee Toner with Hyaluronic Acid good for sensitive skin?
Yes. Toner with Hyaluronic Acid & Coffee is free from alcohol. Its natural and vegan formulation makes it an ideal toner for sensitive skin.
Coffee Face Toner with Hyaluronic Acid | 24 Hrs Hydration | Controls Oil & Tightens Pores | Alcohol-Free - 150 ml
Yaa it's osm products ...
Bas company ache dete dete product ko kuch time baad kharab kr deti h esa mat kariyega baki to product mst hai
Coffee Face Toner with Hyaluronic Acid | 24 Hrs Hydration | Controls Oil & Tightens Pores | Alcohol-Free - 150 ml
Good toner
Its a very good toner. Gives instant hydration to the skin. Skin feels refreshed, hydrated and smooth after application. Its very lightweight and absorbs super quickly! Packaging can be improved though...overall product is good, Its a must try I would highly recommend it.
Hydrating toner
A good hydrating toner to add in ur skincare routine...its a 5 star...
But the packaging is not so good..as if we don't close the bottle tight it may leak.. that's why -1 star
Definitely gonna buy again
Overall..4/5
Good product
See...the toner itself is really good . Had a high concentration of hyaluronic acid and it's really hydrating. Not a fan of the packaging tho.
More information on the product
Additional Information
What is a Hyaluronic Acid Toner and How Does It Work?
A face toner has indispensable importance in your skincare regime as it allows you to appropriately hydrate your skin. Our toner with hyaluronic acid is even more effective because it amalgamates the endowments of caffeine and hyaluronic acid to act as a noteworthy and wholesome addition to one's skincare regime.
This alcohol-free toner will keep your skin hydrated and plump for 24 hours while maintaining its pH level.
Benefits of Using a Hyaluronic Acid Toner for Your Skin
If you are still thinking about using this product, and haven't made up your mind firmly, allow us to walk you through its numerous benefits.
This hyaluronic acid toner has a number of advantages associated with it. Some of those benefits are as follows:
It Will Keep Your Skin Hydrated
Hyaluronic acid is a great moisturising agent and it will keep your skin plump and refreshed. Skin hydration will make your skin look and feel healthy. (1)
It Will Tighten Your Skin
The prodigal ingredients used in this hydrating toner will remove excess oil and impurities to tighten your skin's pores and give you a youthful look.
If you have been hankering for a flawless and glowing complexion, we suggest you try incorporating this product into your skin care practice, and you will be pleasantly surprised.
It Is Suitable For All Skin Types
This toner with hyaluronic acid and caffeine is suitable for all skin types, owing to its natural ingredients. We abstain from using any harsh additives or chemicals in our products and therefore this face toner is suitable for all skin types.
It Will Protect Your Skin From Free Radicals
Caffeine, which is a primary ingredient in this hydrating toner, is known to work wonders in protecting your skin from the damaging effects of free radicals. These free radicals can cause cellular damage to your skin. (2)

Why Should You Choose an Alcohol-Free toner?
An alcohol-free toner can wield immense goodness on your skin because:
They Are Gentle
If you happen to have sensitive or inflammation-prone skin, this hyaluronic acid toner will be very gentle on your skin and will not cause any additional irritation or unwanted flare-ups.
It Is Great For Everyday Use
Since an alcohol-free toner is mild, it can easily be used on a daily basis for a hydrated and moisturized skin texture.
It Won't Dry Your Skin
If your face toner has alcohol in it, it can be overly drying for your skin. People with sensitive or inflammation-prone skin should steer clear from alcohol induced skin ingredients.
Why Is This The Best Toner for Open Pores?
The appearance of open pores can look very dull especially on your nose and forehead. Furthermore, opine pores can get clogged up with oil and bacteria, which can lead to acne breakouts. Toner for open pores can help close pores and tighten the cell gaps. This leads to a reduction in the penetration of various impurities and contaminants in your skin leading to a smoother looking skin texture.
This is one of the best toners for open pores because the powerful blend of coffee, caffeine and hyaluronic acid will impede the secretion of oil and tighten the pores at the same time.
Why Choose mCaffeine?
mCaffeine is a luxury personal care brand that has an exquisite range of caffeinated skin care and haircare products. Our products are vegan, cruelty free and bereft of any harmful additives or chemicals that can cause damage to your hair or skin. In addition to this pore tightening toner, we also have caffeinated face scrubs, sunscreens, face masks, night gel, etc. Our hair care range has outstanding hair serums, hair conditioner, leave-in hair creams, scalp tonic etc.
Frequently Asked Questions:
1. What to Look for while Choosing a Hyaluronic Acid Toner?
While choosing a hyaluronic acid toner, make sure you check if it is alcohol-free or not. In addition to that, you must also check out the list of ingredients to see if you are allergic to any of them.
2. Can this hydrating toner be used for all skin types?
Yes, caffeine, coffee and Hyaluronic acid are all natural ingredients and will suit all skin types. Having said that, it is advisable to do a patch test to look for any signs of skin itching or irritation.
3. How can I use this toner for open pores?
In order to use this hydrating toner, clean and dry your face properly. Apply this toner on your skin and then gently dab it. Let the product dry out and then follow it up with a moisturiser or sunscreen.
4. How often should I use this pore-tightening toner?
You can use this hydrating toner for open pores on a daily basis. It has a lightweight and gentle formulation which makes this product suitable for daily use.

People search for:
Face wash, Face scrub, Face toners, Hair serum, Face oil, sunscreen, Moisturiser, Scalp lotion, Vitamin C serum