Cleanses Pores | Removes Tan | Removes Excess Oil
Regular price
MRP:

Rs. 1,273
Sale price
Rs. 1,273
Regular price
MRP: Rs. 1,273

0% Off
Unit price
per
Buy 1 Get 1 FREE at 7th Birthday Sale
Up to 7 FREE Gifts with Every Order
+ Exciting Prizes for 7 Lucky Winners Every Day
Get hooked on the best routine, Deep Pore Cleansing Regimes, to suck out impurities and feed your skin with the goodness of coffee! This kit contains Coffee Face Wash, Coffee Face Scrub and Coffee Face Mask ,the ultimate pampering regimen for complete face care.
This Combo-set contains: 3 Products :
Coffee Face Wash - 100ml
Coffee Face Scrub - 100 g
Coffee Face Mask - 100 g
Read More
View full details
Why should you buy it?
Ingredients
How to use it?
FAQs
Reviews
You may also like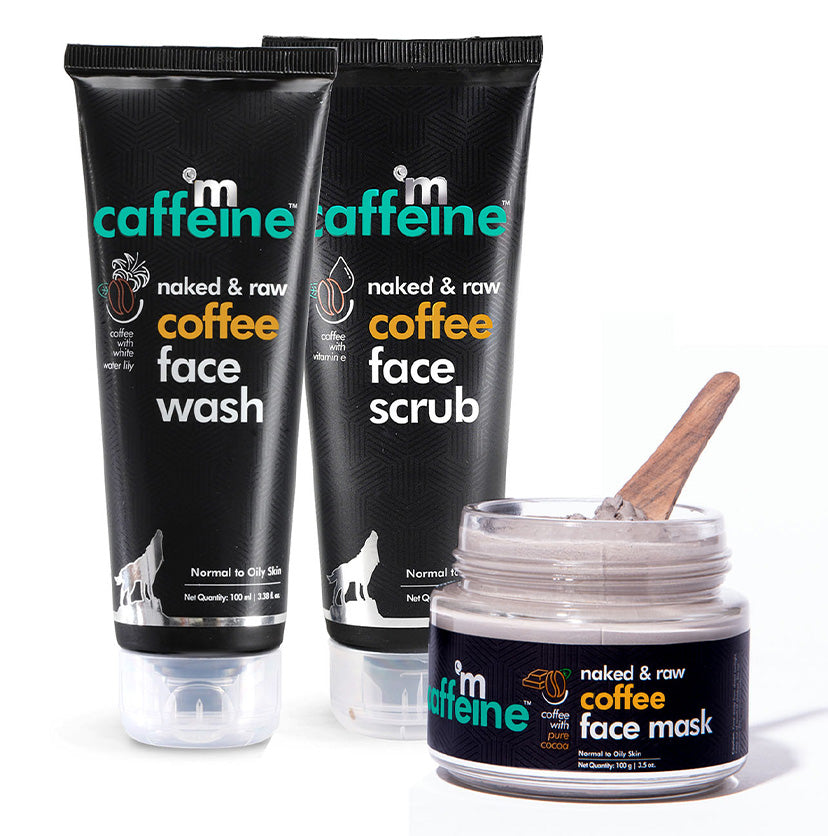 Cleanses Pores and Removes Tan
In this kit, the super ingredient Coffee nourishes, exfoliates and opens up the clogged pores. It also removes tan and polishes the skin.
Removes Excess Oil
A deep cleansing formula enriched with Pure Arabica Coffee removes excess oil and dirt to give you a fresh, oil-free and nourished skin.
Heavenly Aroma of Coffee
The kit exudes a heavenly aroma of pure coffee and we bet that the dark coffee notes of freshly grounded coffee are sure to keep your senses hooked for long!
Ingredients
Coffee Face Wash
Coffee deep cleanses skin, Caffeine reduces puffiness, White Water Lily soothes inflammation and Seaweed prevents skin pigmentation.
Coffee Face Scrub
Pure Arabica Coffee exfoliates skin, Caffeine reduces puffiness, Walnut polishes skin and Hibiscus evenly tones the Skin.
Coffee Face Mask
Coffee exfoliates skin, Caffeine reduces puffiness, Argan Oil hydrates skin and Vitamin E nourishes skin. Kaolin & Bentonite Clays remove excess oil.
How to use
Step 1: Deep Cleanse
Pour a small quantity of Coffee Face Wash onto your palm, apply on a damp face and work up a lather.
Massage the face for a minute and wash it off thoroughly.
Step 2: Exfoliate
On a wet and clean face apply the Coffee Face Scrub and spread it to the neck, avoiding any contact with eyes.
Gently scrub in circular motions for a minute and wash off.
Step 3: Cleanse Pores
Apply a generous amount of the Coffee Face Mask and spread it into an even layer, avoiding the area around the eyes, brows and the lips.
Leave the mask on for 15 to 20 minutes and rinse it off with lukewarm water in a scrubbing circular motion.
Finally, use a light moisturizer to lock the moisture in.
Frequently Asked Questions
What is the best deep pore cleanser?
The mCaffeine Deep Pore Cleansing Regime is a quick pore cleansing kit enriched with pure Coffee and Walnut that effectively exfoliates and tones the skin by cleansing pores, removing tan, and removing excess oil as well. Comprising the best deep pore cleansers that are suitable for all skin types, the kit contains the Coffee Face Wash, Face Scrub, and Face Mask for thorough deep cleansing of the skin without harming the skin's protective barrier.
How can I unclog my pores naturally?
The mCaffeine quick pore cleansing kit is made of natural active ingredients such as Pure Coffee that is rich in caffeine and deeply cleanses & tones the skin. The kit also contains Walnut to help exfoliate the skin and Kaolin & Bentonite Clays to unclog pores and remove excess oil from the face. The regime is easy to use with three simple steps and leaves skin clean, refreshed, and healthy.
How many times should I follow this routine?
You should use the mCaffeine facial pore cleanser routine 2-3 times a week. This routine will work as a deep pore cleanser and will help to get rid of any dirt or debris that is accumulated in the pores of your skin. If you feel that your skin has been exposed to a lot of dust and external damage, you can use this routine more than 2-3 times a week. The open pores face wash can be used on a regular basis. It will exfoliate and rejuvenate your skin after a long day of work.
What are the benefits of coffee?
The coffee content in mCaffeine face wash helps to reduce the puffiness and improves the texture of your skin. The mCaffeine deep pore cleanser scrub reduces inflammation and makes your skin look more youthful and radiant. By using the mCaffeine deep pre cleansing regime, you can have better blood circulation which ensures glowy and smooth skin. Coffee makes for one of the best exfoliators. Using the mCaffeine scrub and mask will help you get rid of dead skin and promote your skin health.
I have sensitive skin. Is the deep pore cleansing regime suitable for me?
The facial pore cleanser does not consist of any chemicals that can be harmful to your skin. All mCaffeine products are SLS and paraben free. You can use the open pores face wash regularly since it is made of 100% organic ingredients. Whether you have dry, oily or normal skin the deep pore cleanser will work efficiently on your skin. Using the deep pore cleansing regime will help you to get rid of all oil, dirt and dullness from your skin.
Deep Pore Cleansing Regime
Deep Pore Cleansing Regime
Mcaffeine products
Mcaffeine products quality is good and the fregrance is very nice and attractive in every product.
Very Good and Worthy
I have been using MCaffeine for a year, and all the products are outstanding. The deep pore cleansing regime does precisely what it says. Additionally, it worked on my tan really well. I haven't had any side effects, also. I am extremely satisfied.