Relieves Dark Circles | Hydrates | Repairs Sun Damage
Buy 2 & Get 4 Bestsellers FREE!
FLAT 15% OFF + 10% Cashback on Prepaid Orders | Use Code: MC25
Tackle dark circles, fine lines and under-eye puffiness with the power of Coffee 'rolled' into this new and upgraded packaging. Coffee Under Eye Cream is created with the goodness of Coffee, Caffeine, White Water Lily & Vitamin E, to diminish all your under-eye problems. 94% of subjects have shown a significant reduction in under-eye dark circles, puffiness and fine lines. This new in-built roller helps massage the cream on the delicate under-eye area. It also boosts circulation and helps the product absorb better, leaving the under-eye skin fresh and glowing. Maximize the potency of our Eye Cream with a holistic routine. How? Prioritize 7-8 hours of sleep, stay hydrated for better skin elasticity, and manage stress to reduce dark circles. Pair Coffee Under Eye Cream with lifestyle changes for impressive results!
94% of subjects have shown a significant reduction in under-eye dark circles, puffiness and fine lines.
Read More
View full details
Why should you buy it?
Ingredients
How to use it?
FAQs
Reviews
You may also like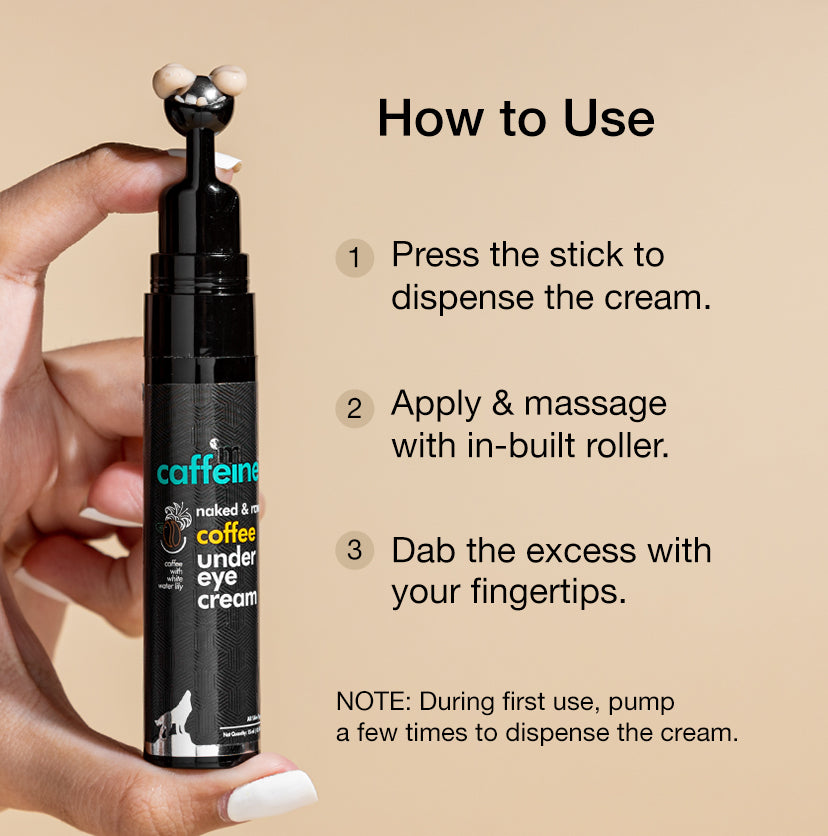 Users Saw Reduction In Dark Circles
Reduces Dark Circles
Packed with antioxidant-rich Caffeine, this under-eye cream is crafted to relieve dark circles effectively.
More than 94% of subjects showed a significant reduction in puffiness and fine lines.
In-Built Roller Massager
The Coffee Under Eye Cream comes with an in-built stainless steel roller which makes application easy. The roller boosts circulation and also helps in product absorption.
Money Back Guarantee
The Coffee Under Eye Cream comes with 60 days money-back guarantee. If you are not 100% satisfied with the results then you get your money back*

*Conditions Apply
1. Valid only for website orders
2. Invoice should be dated 60 days back
Fragrance Free
This under eye cream is free from artificial fragrances and therefore won't cause any irritation.
Ingredients
Pure Arabica Coffee & Caffeine
Infused with antioxidant-rich Coffee, it helps relieve dark circles. Caffeine tones & soothes the skin.
White Water Lily
White Water Lily nourishes the skin deeply and reduces wrinkles & fine lines to make the under eye area appear fresh.
Vitamin E
Essential for healthy skin, Vitamin E helps in sun damage recovery.
Sweet Almond Oil
Sweet Almond Oil has great moisturizing properties that helps soothe the delicate under eye skin.
Hyaluronic Acid
Super hydrating hyaluronic acid deeply conditions and retains moisture in the skin.
How to use
Step 1:
Shake the stick, then press at the top to dispense the cream.
Step 2:
Apply and massage the under-eye area with the in-built roller.
Step 3:
Dab the excess cream with your fingertips. Do not get close to the lids or waterline.
NOTE: During first use, pump a few times to dispense the cream.