Dark Spot Reduction | Pore Tightening | Resurface & Purify Skin
Buy 1 Get 1 FREE at 7th Birthday Sale
Up to 7 FREE Gifts with Every Order
+ Exciting Prizes for 7 Lucky Winners Every Day
OFFER: Buy 3 Get 3 FREE on Sheet Masks, USE CODE: B3G3
To avail this offer, Add 2 pack of sheet masks and use above code to get 1 "Pack of 3" FREE.
Purify, clarify, and soothe your skin with Green Tea Sheet Masks, powered by concentrated actives! Available in 3 refreshing variants, this trio offers endless skin benefits. Made using biodegradable fabric, these masks are super soothing on the skin.
1.Green Tea Sheet Mask with Vitamin C - 20g
Detoxifies, reduces dark spots and pigmentation, and offers sun protection, leaving behind a fresh, clear & healthy glow.
2.Green Tea Sheet Mask with Niacinamide - 20g
Detoxifies, tightens pores & reduces hyperpigmentation to purify the skin.
3.Green Tea Sheet Mask with Natural AHA Fruit Mix - 20g
Detoxifies, removes dead skin cells, oils & impurities to clarify and improve skin texture.
Read More
View full details
Why should you buy it?
Ingredients
How to use it?
FAQs
Reviews
You may also like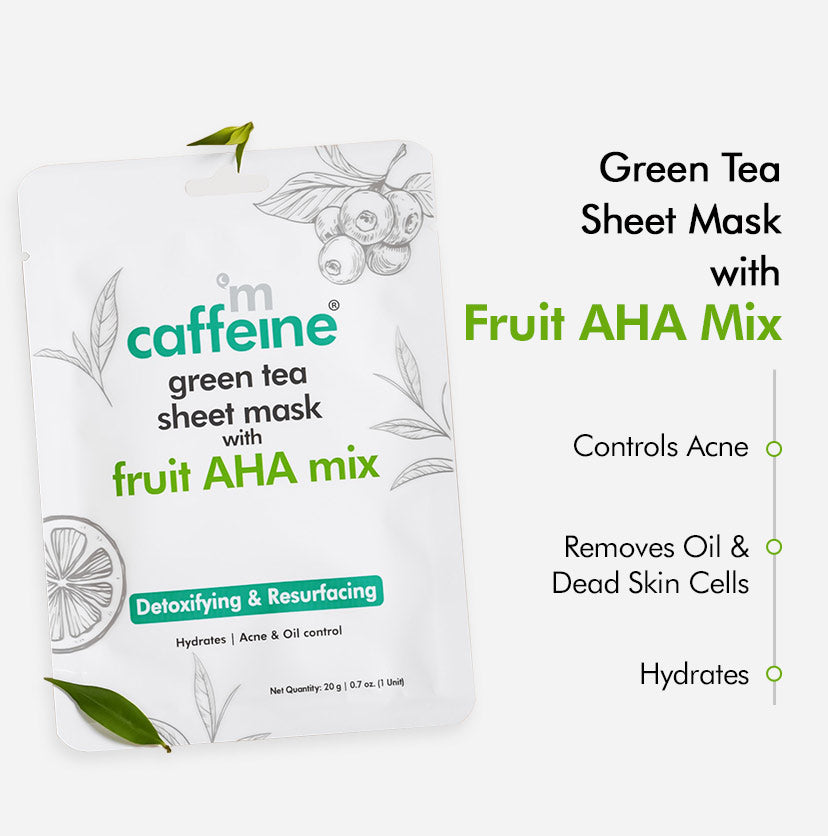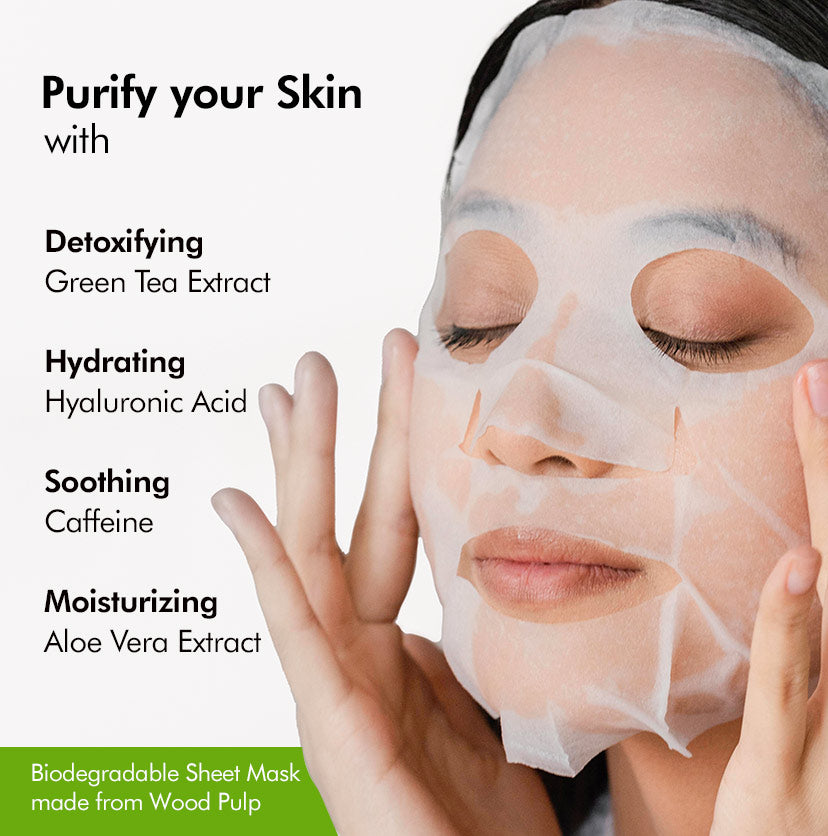 Reduce Dark Spots — Green Tea Sheet Mask with Vitamin C
Vitamin C in the Sheet Mask reduces dark spots, pigmentation and lends a healthy glow*. Caffeine rich Green Tea Sheet Mask is also packed with Hyaluronic Acid & Aloe Vera extract that gives an instant surge of hydration.
*More than 95% users saw improved skin glow
Tighten Pores & Reduce Pigmentation — Green Tea Sheet Mask with Niacinamide
Niacinamide tightens pores, reduces hyperpigmentation and improves skin texture* to leave you with glowing skin. Caffeine, Green Tea mingled with Hyaluronic Acid & Aloe vera extract work together to serve intense hydration to your skin.
*More than 95% users experienced improved skin texture.
Get Resurfacing Nourishment — Green Tea Sheet Mask with Natural AHA Fruit Mix
Treat & nourish your skin with this sheet mask powered with Natural AHA Fruit Mix that works on your skin to reduce excess oil production while improving the skin texture. Green Tea combined with Hyaluronic Acid & Aloe vera extract reduces redness & inflammation while hydrating the skin.
Ingredients
Vitamin C
Active ingredient Vitamin C helps to reduce dark spots & pigmentation while also protecting skin from sun damage.
Niacinamide
Niacinamide repairs and conditions the skin by reducing blemishes, it tightens pores, leaving the skin smooth and glowing.
Fruit AHA Mix
Fruit AHA in the sheet mask gently removes dead skin cells, removes excess oil & impurities from the skin while improving its texture.
Caffeine
Super ingredient Caffeine tones and soothes skin as well as reduces inflammation.
Green Tea Extract
Rich in antioxidants, Green Tea Extract naturally detoxifies & purifies the skin, controls oil production while reducing acne.
Hyaluronic Acid
Super hydrating Hyaluronic acid sinks into the skin instantly to hydrate, retain moisture and make it soft and smooth.
Aloe Vera Leaf Extract
Aloe vera leaf extract binds and retains moisture in the skin to offer long-lasting hydration.
How to use
Step 1:
Apply mask on freshly cleansed face.
Step 2:
Keep it on for 15 minutes before removing gently.
Step 3:
Pat in the excess serum on face and neck.
Frequently Asked Questions
Is Green tea sheet mask good?
Green tea contains antioxidants, anti-inflammatory and antimicrobial properties that offer multiple skin benefits. It fights acne causing bacteria and soothes skin to reduce redness and inflammation. It is calming and purifying in nature that keeps skin healthy.
What is a sheet mask?
Sheet masks are thin sheets soaked in concentrated serum and shaped like a face to provide instant and intense hydration. Packed with potent ingredients, these masks are crafted to tackle several skin concerns like dryness, pigmentation, acne, dull skin, etc.
Is a green tea sheet mask good for acne?
Green tea works great on people with oily and acne-prone skin. It helps in evacuating excess oil and works wonders on pimples, zits and acne.
Should I wash my face after using a sheet mask?
Sheet masks continue to benefit your skin after you remove it, so don't wash your face immediately after. Take advantage of the hydrating residue left and let it soak into your skin to achieve the best results
How long should the mask be left on for?
Sheet mask should be left on the skin for 15-20 minutes and masking time should not exceed 30 minutes.
Can I use moisturizer after using a sheet mask?
Sheet masks contain hydrating ingredients that retain moisture into the skin. It keeps the skin nourished for a long time after the use, therefore you don't need to apply moisturizer right after using a sheet mask.
Amazing
Good product I love it ... Thank you mCaffeine
Green Tea Sheet Masks - Vitamin C, Niacinamide & Fruit AHA Mix - Pack of 3