Protects & Repairs UV Damage | Lightweight & Non-greasy Formula | Hydrates & Controls Oil
Buy 2 & Get 4 Bestsellers FREE!
FLAT 15% OFF + 10% Cashback on Prepaid Orders | Use Code: MC25
Your search for perfect broad spectrum protection ends here with Coffee Sunscreen that has SPF 30 with PA++ formulation. Enjoy up to 8 hours of protection against harmful UVA and UVB rays with this super lightweight and non-greasy sunscreen that doesn't leave a white cast or a sticky feeling. Made better with powerful UV filters and antioxidant-rich Caffeine, it repairs and controls any sun damage while naturally hydrating Hyaluronic Acid and Vitamin B3 maintain your skin's moisture balance and strengthen the natural barrier. It also controls excess oil, making your skin soft and matte. You can confidently enjoy outdoor activities or pool days with our water-resistant formula. So don't hesitate to step out with our Coffee Sunscreen - we've got you covered!
*80min water resistance test
ISO/IEC-17025: 2017 accredited by the National Accreditation Board for Laboratories (NABL)
Read More
View full details
Why should you buy it?
Ingredients
How to use it?
FAQs
Reviews
You may also like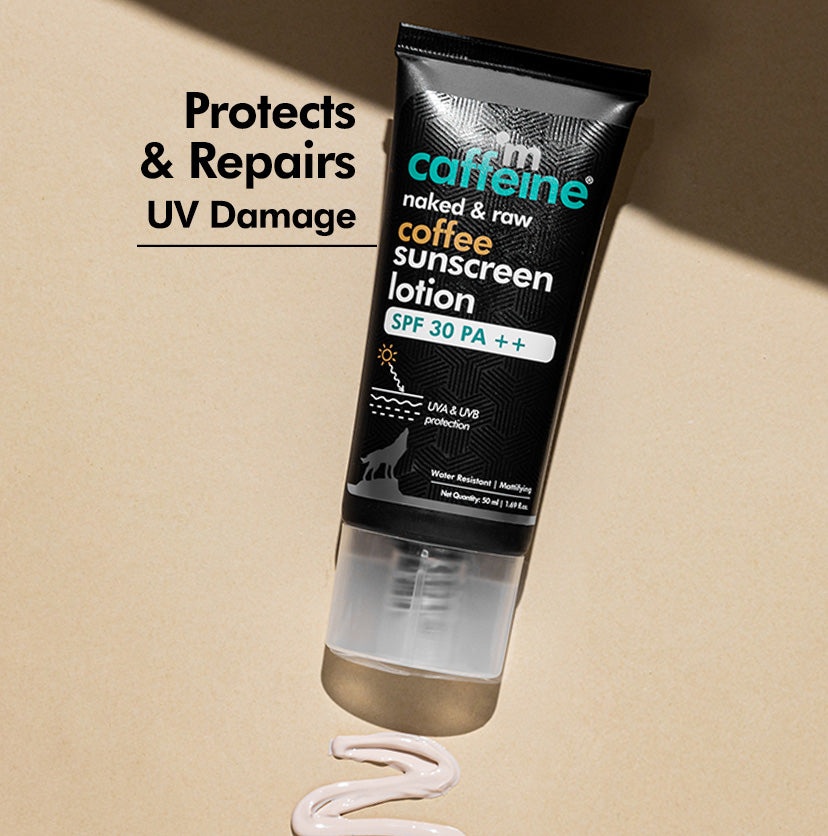 SPF 30 with PA++ Formulation for Up to 8 Hrs Protection
Antioxidant-rich Caffeine lends broad spectrum protection for up to 8 hours, protects the skin from harmful UVA & UVB rays and repairs UV damage.
Lightweight, Non-greasy & Zero White Cast Formula
Infused with Provitamin B5 & Shea Butter, this sunscreen is a lightweight & non-greasy formula that easily blends into the skin, effortlessly without leaving the traces of white cast.
Mattifies, Hydrates & Controls Oil
Let your skin take a sip of non-sticky hydration as Hyaluronic Acid & Vitamin B3 nourishes the skin and controls oil to give you a mattified look.
Ingredients
Coffee & Caffeine
Antioxidant rich Coffee & Caffeine protects the skin from UV damage and soothes the skin to reduce inflammation & redness.
Provitamin B5 & Shea Butter
Provitamin B5 & Shea Butter come together to give your skin lightweight moisturization and soothe & nourish the skin.
Hyaluronic acid & Vitamin B3
Hydrating hero Hyaluronic Acid with Vitamin B3 gives the skin an instant surge of non-sticky and oil-free hydration.
How to use
Apply generously, 15 minutes before sun exposure.
Reapply as & when required.
Frequently Asked Questions
What is sunscreen lotion good for?
The UV rays of the sun not only cause sunburn and tanning but can also cause premature ageing. Therefore, it is recommended to apply sunscreen every day. Regular application of sunscreen also decreases the risk of skin cancer. Made with skin friendly ingredients the Coffee Sunscreen Lotion is suitable for all skin types.
Which is better SPF 30 or SPF 50?
SPF stands for Sun Protection Factor; it determines how well the sunscreen protects your skin from the harmful rays of the sun. An SPF 30 sunscreen is apt for someone who spends most of their time indoors and/or commutes by car. However, those who spend more time outdoors can pick a SPF 50 sunscreen.
How to choose the right sunscreen?
There are several factors you need to consider while choosing a sunscreen. Ensure that the formula is lightweight and does not clog pores, offers protection from both UVA and UVB rays, does not leave a white cast and contains effective ingredients. The Coffee Sunscreen Lotion has all these benefits and more! It is also non-greasy, water resistant, blends easily and is suitable for all skin types.
Can I apply sunscreen directly on the face?
Yes, in fact applying sunscreen directly on a cleansed face will offer maximum protection. Apply the Coffee Sunscreen Lotion as the last step of your morning skincare routine and reapply every 2-3 hours to stay protected.
Should I apply sunscreen at home?
Sunscreen should be applied every day, irrespective of whether you're home or outdoors. This is because the UV rays of the sun are so powerful that they can easily pass through glass windows. To stay protected, it is best to apply sunscreen every single day.
What does water resistant mean?
The Coffee Sunscreen Lotion is water resistant and has been tested to stay for 80 minutes* when in contact with water.
*Lab Credits: ISO/IEC-17025: 2017 accredited by the National Accreditation Board for Laboratories (NABL)
Sunscreen is besi
That shiny look on your face you will get that after applying sunscreen is best..Go for it..
Really love the product
I have no complaints about this product i just wished it was more but I'm loving it and I use it everyday and I'll be buying it again
Coffee Lotion Sunscreen SPF 30 PA++ | UV Protection | Zero White Cast & Water Resistant (50ml)
Coffee Lotion Sunscreen SPF 30 PA++ | UV Protection | Zero White Cast & Water Resistant (50ml)
Coffee Lotion Sunscreen SPF 30 PA++
So nice product. Protects from UA-A & UV-B.