Reduces Pigmentation | 24 Hrs Moisturization | Nourishes & Smoothes
Buy 1 Get 1 FREE at 7th Birthday Sale
Up to 7 FREE Gifts with Every Order
+ Exciting Prizes for 7 Lucky Winners Every Day
A lip balm that glides effortlessly on your skin for 85% more pigmentation reduction, giving your lips up to 24 Hours of Moisturization! Crafted with the goodness of deeply nourishing Coffee Oil & Caffeine, moisturizing Shea Butter, and Antioxidant-rich Vitamin E, Coffee Lip Balm heals dry lips from within. The smooth balmy texture melts instantly, to make lips soft & nourished without the need to be applied very often! Free from beeswax and 100% Vegan formula, it exudes a delicious Coffee aroma with base notes of fresh butter that leaves you craving for more!
85% more reduction in pigmentation when compared to a neutral product.
Clinically tested, 95% of subjects experienced significantly moisturized lips for up to 24 hours.
Read More
View full details
Why should you buy it?
Ingredients
How to use it?
FAQs
Reviews
You may also like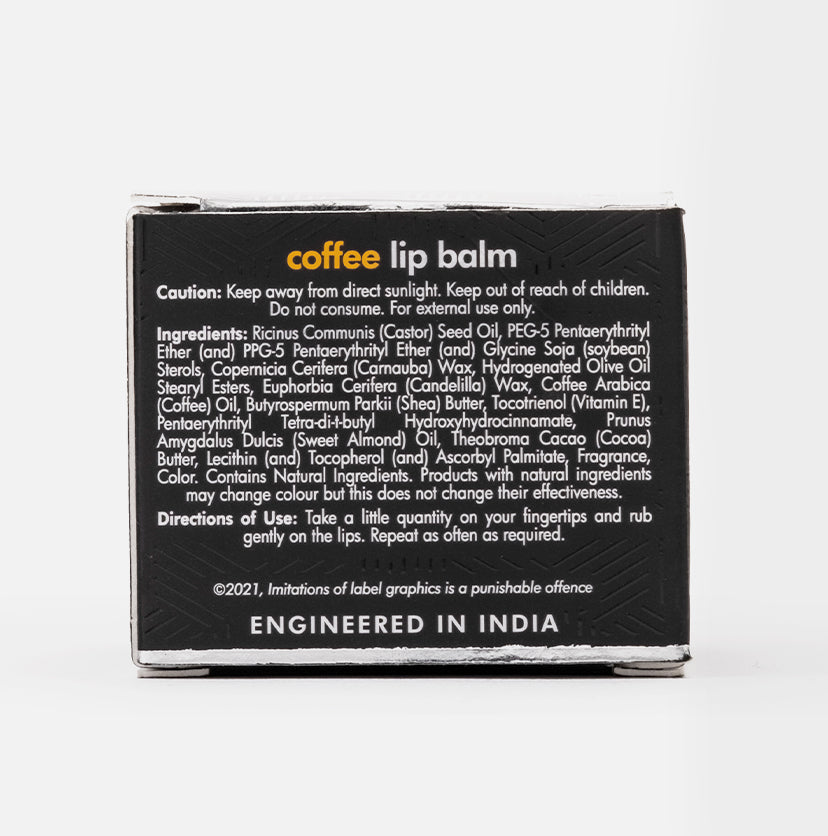 Users saw improvement in lip moisturization
24 Hour Moisturization
Nourishing heroes Shea Butter & Vitamin E in this lip balm heal as well as provide long lasting moisturization to dry and chapped lips.
Clinically tested, 95% of subjects saw significant improvement in lip moisturization up to 24 hours.
Nourishes & Smoothes
Treat the delicate skin on your lips to the gentle goodness of Shea butter, Vitamin E and Coffee Oil that make lips soft and smooth from within.
100% of the subjects agreed that it repairs chapped lips, retains moisture, smoothes & softens lips.
Reduces Pigmentation
Restore your lip's natural colour with this lip balm that contains Caffeine, Coffee Oil, and Vitamin E, to reduce pigmentation and leave you with soft & even-toned lips.
85% more reduction in pigmentation when compared to the neutral product.
Ingredients
Coffee Oil & Caffeine
Rich in Caffeine, the Coffee Oil in this lip balm deeply nourishes and reduces pigmentation.
Shea Butter
Infused with Shea Butter, it heals chapped lips and nourishes & smoothes dry lips without feeling too heavy.
Vitamin E
Vitamin E reduces pigmentation, heals cracked and very dry lips to leave it soft and smooth!
How to use
Take a little amount of the Coffee Lip Balm on your fingertip.
Apply gently on the lips.
Repeat as often as required.
Frequently Asked Questions
Why Coffee for Lips?
Coffee is enriched with the superfood Caffeine that helps reduce pigmentation and even tones the lips. Powered with antioxidants, Coffee Oil also nourishes and smoothens lips for a healthy look.
What are the benefits of Coffee Lip Balm?
The Coffee Lip Balm moisturizes chapped lips, nourishes and smoothens lips, and reduces pigmentation for an even-toned pout.
How often should I use the Coffee Lip Balm?
Use the lip balm every day, as and when desired for soft, smooth, and healthy lips.
Will the Coffee Lip Balm moisturize my lips for 24 hours?
Clinically tested, more than 95% of subjects who'd applied the Coffee Lip Balm experienced significant improvement in lip moisturization for up to 24 hours after application. The Coffee Lip Balm is formulated with deeply moisturizing ingredients such as Coffee Oil and Shea Butter.
What does the Coffee Lip Balm smell and feel like?
The Coffee Lip Balm has a delicious aroma of Coffee with base notes of fresh butter. It has a perfect balmy texture that melts on the lips for long-lasting moisture.
Is it okay if I lick my lips when using the Coffee Lip Balm?
Lip licking in general is not advisable to do. But, in case you do end up accidently taking a lick, you are safe because our lip products are natural.
Is the Coffee Lip Balm free from harmful chemicals?
Yes, the Coffee Lip Balm is free from SLS, Sulphate & Paraben. It is free from beeswax, making it 100% vegan and cruelty-free. It is also FDA-approved and dermatologically tested.
What are the benefits of shea butter in lip balms?
The indulgent Shea Butter in this Vegan Lip Balm not only moisturizes dry & flaky lips, but also provides complete nourishment, making them appear plush.
Are vegan lip balms the best way to moisturize chapped lips?
Indeed! Natural and Vegan Lip Balms provide more nourishment than the regular ones. These are infused with the goodness of potent ingredients, are free from beeswax & chemicals and not tested on animals, making them less likely to cause allergic reactions.
Can a coffee lip balm actually nourish dry lips?
Without a doubt! This vegan lip balm is infused with Coffee & Caffeine that are the powerhouse of antioxidants. It provides moisturization and nourishment to dry lips, helping them heal faster with regular use.
How can vegan lip balms reduce pigmentation?
mCaffeine's Coffee Lip Balm is 100% natural and vegan and loaded with ingredients such as Coffee, Caffeine and Vitamin E which are rich in antioxidants. They help reduce dark lip pigmentation with regular use.
Highly recommended
I would like to say thank you mCaffein. I got relief from pigmented lips.
Thank u.
Coffee lip balm
Stays little longer, satisfied with its hydration..would like to buy further.
The coffee lip balm
Absolutely amazing buttery texture with an essence of coffee.Hydrates you lips and you feel your lips are plump
Good
Very effective product... I love this product 😍😍
It's one of the best lip balms I have ever used! Locks the moisture for more than 6 hours and fragrance is so amazing!
Coffee Lip Balm for Dry & Pigmented Lips | 100% Vegan | 12g