Controls Dandruff | Deeply Cleanses | Exfoliates
Buy 2 & Get 4 Bestsellers FREE!
FLAT 15% OFF + 10% Cashback on Prepaid Orders | Use Code: MC25
Say hello to your scalp's deeply cleansing & refreshing Caffeine fix! This anti-dandruff Coffee Scalp Scrub reduces 99% of dandruff-causing microbes. This scrub is great for dandruff removal. With perfectly sized Coffee particles, it also reduces flakes and treats itchy scalp at home.
View full details
Why should you buy it?
Ingredients
How to use it?
FAQs
Reviews
You may also like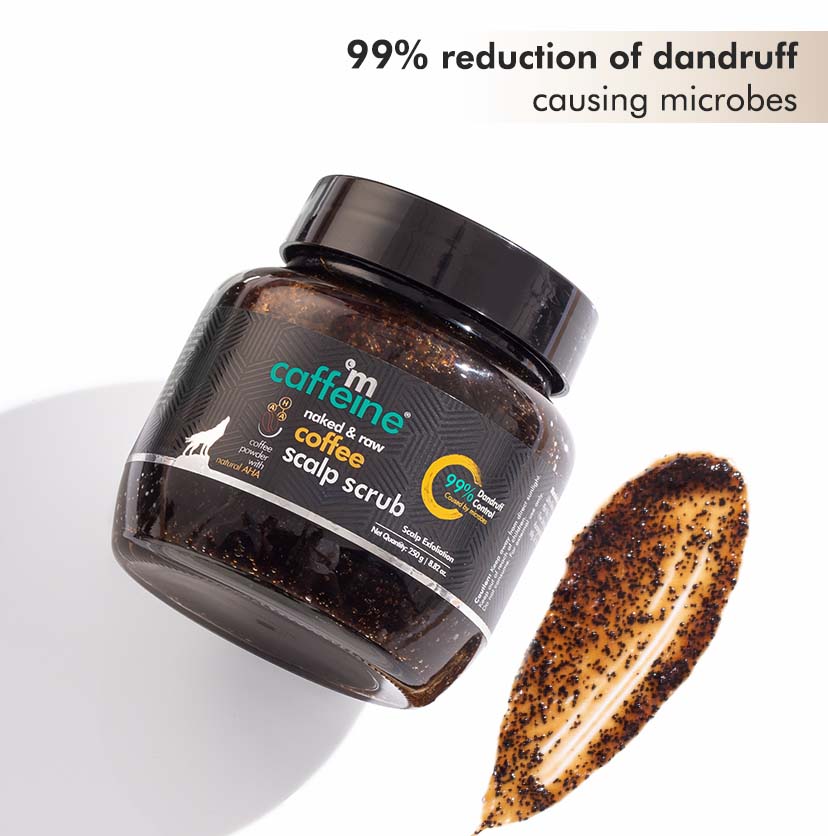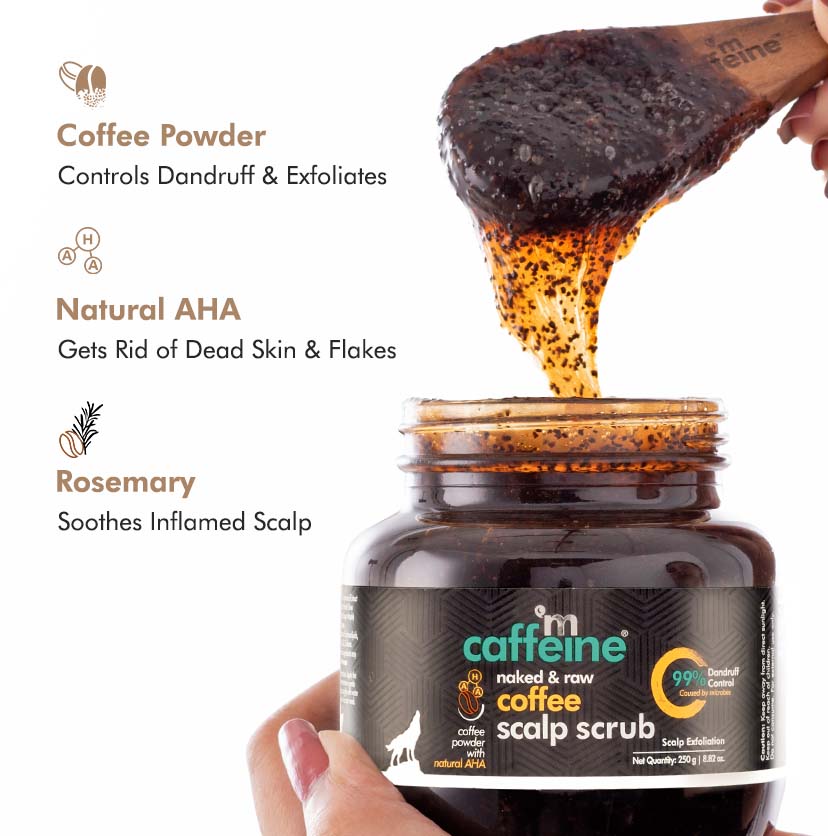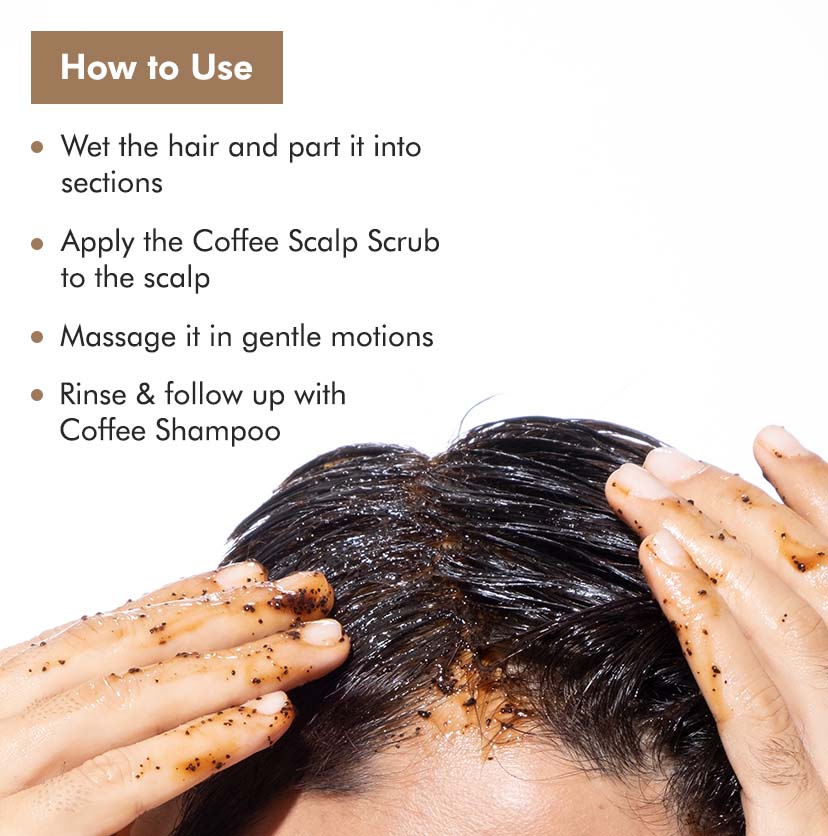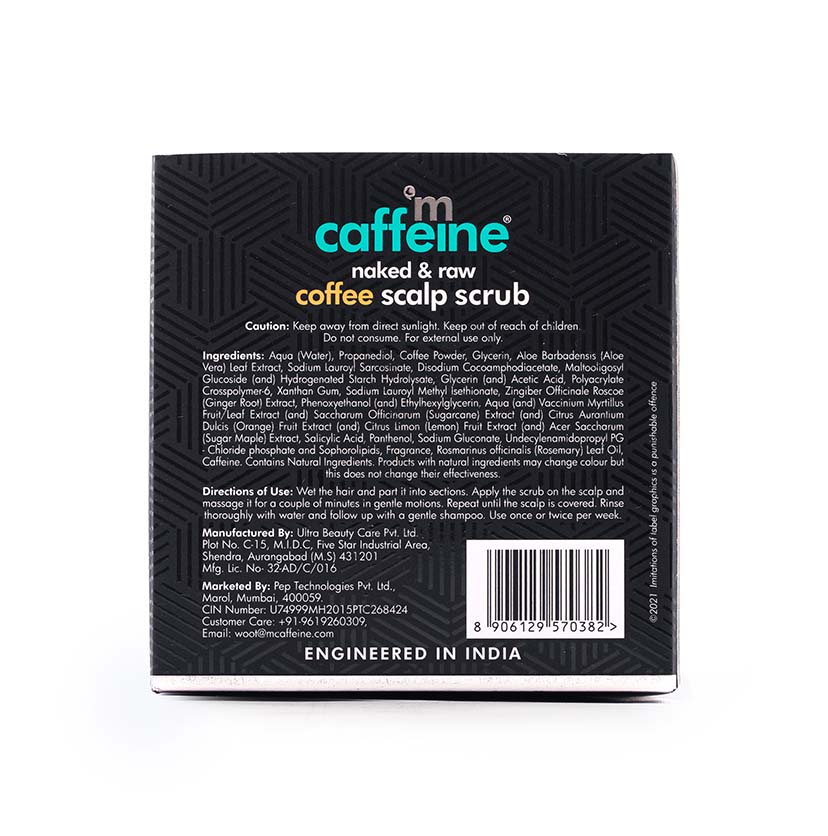 Dandruff Removal
Clinically tested and backed by ISO/ IEC 17025:2017 NABL accredited lab, Coffee Scalp Scrub helps in reducing 99% of dandruff-causing microbes.
Exfoliation
Perfectly sized Coffee particles present in the Coffee Scalp Scrub get rid of buildup from your scalp, effortlessly. Pure Arabica Coffee stimulates the hair roots and improves blood circulation.
Before & After
Coffee Scalp Scrub removes dandruff in just a single wash.
Pure Coffee Aroma
Meant to amp up your showering experience, the Coffee Scalp Scrub exudes the aroma of freshly brewed Coffee.
Ingredients
Coffee Powder
One of the best exfoliators, Coffee Powder gets rid of dead skin cells, buildup, and dandruff as well.
Natural AHA
Partners with Coffee to enhance the exfoliation, Natural AHA also helps in getting rid of dandruff.
Rosemary
Not just for scrubbing and rubbing, the Coffee Scalp Scrub has Rosemary that soothes your inflamed scalp and cools & heals it, as well.
Caffeine
Caffeine, the powerhouse of the Coffee Scalp Scrub, stimulates the roots to improve hair health.
How to use
Step 1:
Wet your hair and part it into sections. Apply the scrub on your scalp and massage it for a couple of minutes in gentle motions.
Step 2:
Repeat until your scalp is covered. Rinse thoroughly with water and follow up with a gentle shampoo.
Frequently Asked Questions
Are scalp scrubs good for dandruff control
Scalp scrubs provide scalp exfoliation which is a key haircare step for removing dandruff. An effective scalp scrub should remove dead cells, dandruff, and other build-ups for good hair health. mCaffeine's Coffee Scalp Scrub is proven to remove 99% of dandruff-causing microbes and is supercharged with exfoliating Coffee Powder that efficiently removes build-up and dead skin cells.
How to get rid of dandruff at home using Coffee Scalp Scrub?
To remove dandruff, take mCaffeine's best scalp scrub for dandruff and gently massage it on the wet scalp for a couple of minutes. This will remove dandruff and other build-ups by cleansing and exfoliating the scalp. mCaffeine's Coffee Scalp Scrub is proven to remove 99% of dandruff-causing microbes, use it once or twice a week as directed for best results. In addition, it is a good scalp scrub for hair growth as it also stimulates the roots.
Is a scrubber needed or not to exfoliate my scalp?
You don't need a scrubber to get rid of dead skin & buildup from your scalp. The Coffee Scalp Scrub has perfectly-sized Coffee particles that effortlessly exfoliate the scalp leaving it fresh & clean.
How does the Coffee Scalp Scrub remove dandruff?
Coffee Scalp Scrub is loaded with Coffee & Natural AHA, both of which are known to remove dandruff and exfoliate the scalp. With Coffee particles that scrub off the buildup and dead skin, this Coffee Scrub provides a clean & fresh scalp.
Is dandruff caused by dry or oily scalp?
In the dry scalp, the skin gets irritated and flakes off, while dandruff occurs when there's too much oil on the scalp. However, both result in an itchy scalp with whitish flakes. A few common causes of dandruff are oily skin, not shampooing enough, or even excess humidity in the air. But one need not worry as dandruff can be removed by regularly using an exfoliating scalp scrub for oily hair such as the mCaffeine Coffee Scalp Scrub that removes dirt, oil, dead skin cells, and 99% of dandruff-causing microbes.
How do you get rid of thick layers of dandruff?
Thick layers of dandruff is often a result of a congested and oily scalp which may lead to constant scratching. This can be taken care of by using mCaffeine's best Scalp Scrub regularly, as directed along with a proper hair care regime. Enriched with Coffee Powder, the scrub effectively exfoliates the scalp by removing dirt, oil, dead cells, and 99% of dandruff-causing microbes. However, for advanced dandruff issues, we recommend you see a dermatologist.
Lovely product
I just loved my skin after using the scrub.. would recommend to especially dry skin.
Its really good And helpful
Anti dandruff scalp scrub
Super and completely removed scalp problem and dandruff.Thank u mccafene.This is my all time favourite brand ❤️
Coffee Scalp Scrub - 250 g
Scalp become almost clean and dandruff free.
Coffee scalp scrub
What a beautiful product 😍!!My headache actually goes away when I start scrubbing my Scalp with this specially designed scrub suitable for all scalp types.The just right coarsely texture not just massages my hair but leaves them soft and silky...I love it