4 Step Skin Rejuvenating Regime
Regular price
MRP:

Rs. 1,616
Sale price
Rs. 1,616
Regular price
MRP: Rs. 2,020

20% Off
Unit price
per
Buy 2 & Get 4 Bestsellers FREE!
Get 10% Prepaid Cashback + 5% Prepaid Discount | No Code Required
Coffee's for every mood and so is this gift kit. Uplift their mood and skin with this 4-step rejuvenating regime! The Coffee Mood - Gift Kit is specially curated to make your loved one's day extra special. Birthday, anniversary, Rakhi gift or just because, no matter what the occasion, your search for the perfect surprise gift ends with this mCaffeine kit!
This gift kit contains 6 products: :
Coffee Face Wash - 100 ml
Coffee Face Scrub - 100 g
Coffee Body Scrub - 100 g
Coffee Face Mask - 100 g
Brew Scoop - 85 mm x 27 mm x 20 mm (l x w x h)
Perk-Up Face Towel - 330 mm X 330 mm (l x w)
Gift Box Dimensions - 340 mm x 220 mm x 98 mm (l x w x h)
Read More
View full details
Why should you buy it?
Ingredients
How to use it?
FAQs
Reviews
You may also like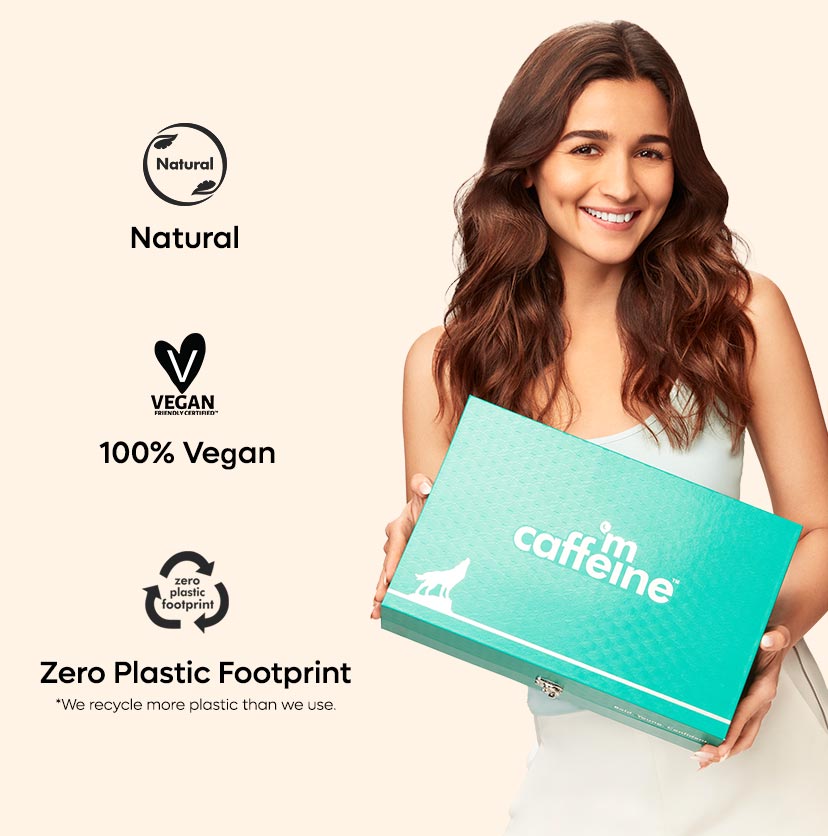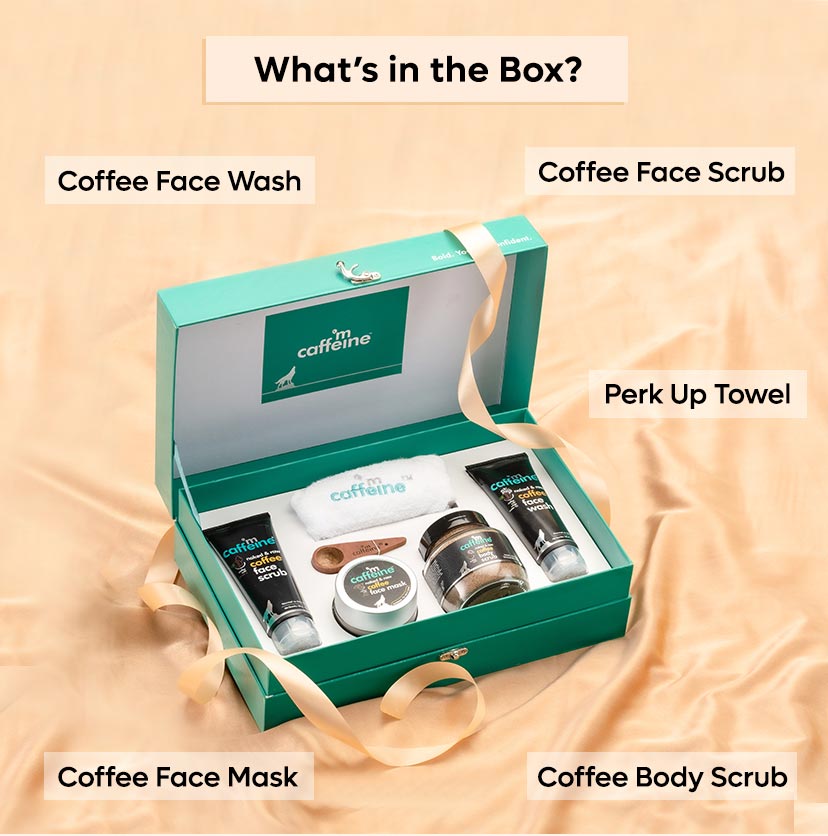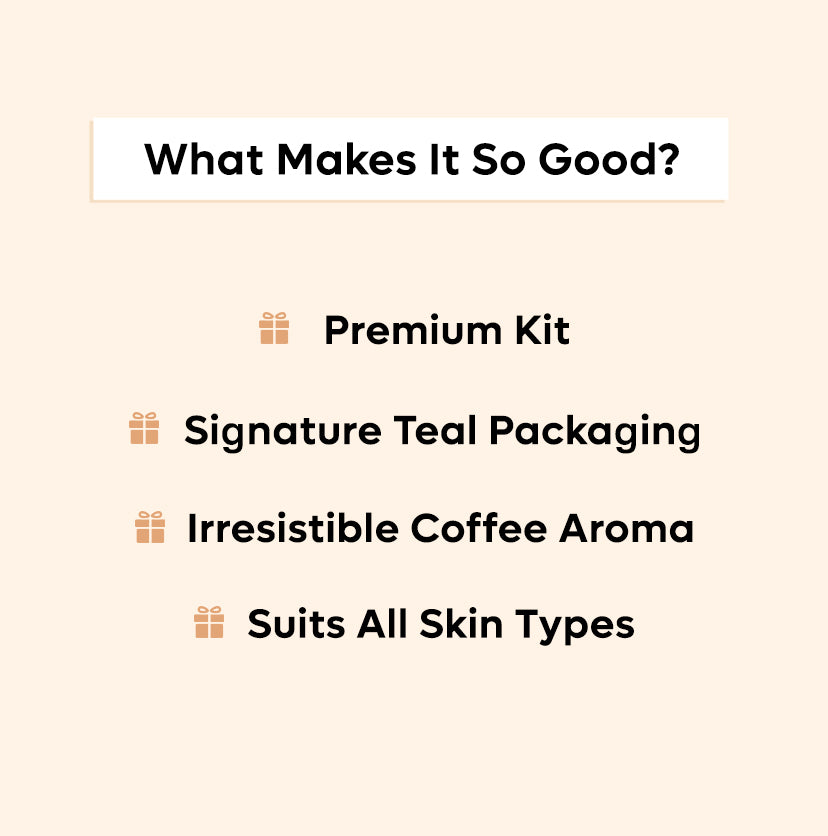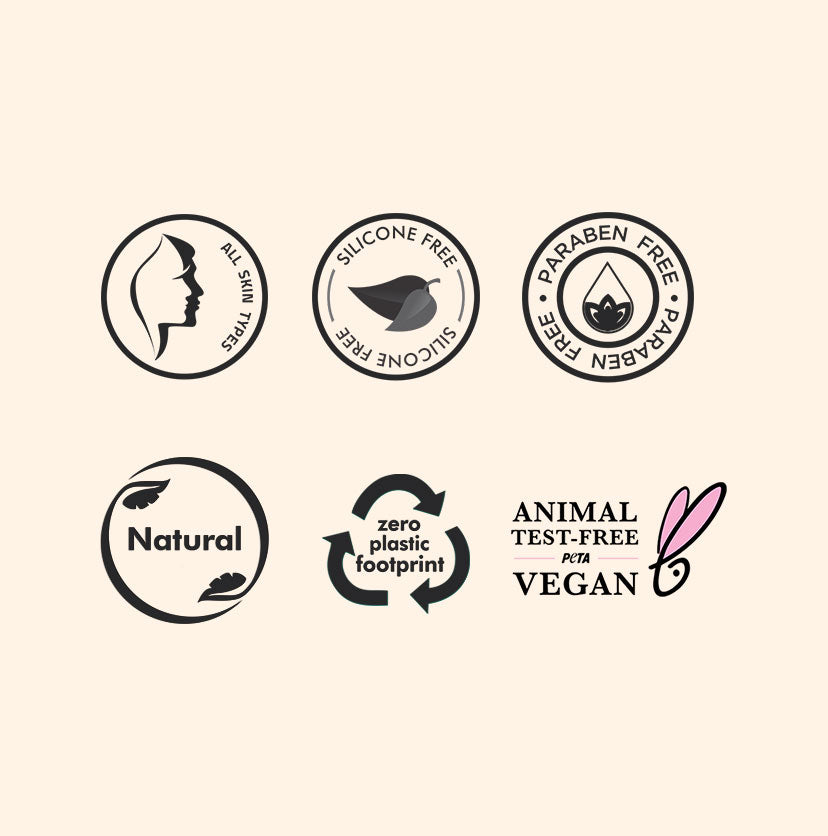 Premium Gifting
The Coffee Mood - Gift Kit is a luxe and premium gift box, crafted to cater to the needs of both men and women. This gender-neutral kit is the perfect present for every occasion and celebration.
Teal Gift Boxes
This gift box is as unique as your loved ones. The signature teal packaging is so alluring, it will leave your loved one super impressed!
Pure Arabica Coffee
The Coffee Mood - Gift Kit exudes an elevating and addictive aroma of fresh Coffee Grounds which makes it so heavenly. Gift this kit to a friend, family member or significant other as this is the best gift for just about anyone!
Products
Coffee Face Wash
Loaded with Pure Arabica Coffee, the

Coffee Face Wash

leaves the skin craving for more! Coffee deeply cleanses, White Water Lily soothes inflammation, Aloe Vera nourishes, Caffeine tones the skin, and Seaweed reduces skin pigmentation.
Coffee Face Scrub
Exfoliate and Caffeinate with the

Coffee Face Scrub

. Coffee and Walnut exfoliate, Hibiscus tones, Argan Oil Moisturizes, and Vitamin E makes the skin soft and supple.
Coffee Body Scrub
Brewed strong to buff away dead skin, the

Coffee Body Scrub

is what your skin needs to get that caffeinated glow. It has Coffee that exfoliates and the Coconut Oil present in the scrub moisturizes, nourishes and softens the skin.
Coffee Face Mask
Get hooked to the spa-like treatment with the irresistible Coffee Face mask and reveal caffeinated and glowing skin. Coffee removes tan, Caffeine reduces puffiness, Argan Oil moisturizes, Cocoa prevents skin dryness, Vitamin E nourishes, and the combination of Kaolin, Multani Mitti and Bentonite Clay shrinks pores and removes excess oil.
How to use
Step 1: Face Cleansing
Pour a small quantity of Coffee Face Wash.
Apply on a damp face, and work up a lather.
Massage the face for a minute and wash it off thoroughly.
Step 2: Face Exfoliation
On a clean face, apply Coffee Face Scrub to the face and spread it to the neck.
Gently scrub in circular motions for one minute and wash off with water.
Step 3: Body Exfoliation
On the wet body, apply the Coffee Body Scrub and gently scrub in circular motions.
Rinse with warm water, pat dry, and moisturize.
Step 4: Face Masking
Clean your face with a mild face wash. Apply the Coffee Face Mask with the spatula. Spread it into an even layer.
Leave the mask on for 15 to 20 minutes. Rinse it off with lukewarm water.
Frequently Asked Questions
Why are skincare gifts the best?
Finding the perfect gift can sometimes be confusing. However, skincare gift kits are ideal for just about anyone. This Coffee Mood Gift Kit is suitable for all skin types and can be used by both men and women. This makes it the best gift for your loved ones.
Is this gift suitable for both men and women?
All the products on our website are gender-neutral, this makes them the perfect gift for men and women. That's not all, these products are gentle and suitable for all skin types!
What occasions can this gift kit be gifted?
The Coffee Mood - Gift Kit is a versatile gift hamper that can be given as a birthday, valentine's day, anniversary, Rakhi or even Diwali gift. Skip the chocolates and roses and give your loved ones pure coffee indulgence!
What is included in the Coffee Mood Gift Kit?
The Coffee Mood Gift Kit contains caffeinated products that are gentle yet effective and suitable for all skin types. All of mCaffeine's products are gender-neutral, this means the kit can be gifted to both men and women.
Is coffee good for the skin?
Coffee is enriched with the superfood Caffeine that helps reduce pigmentation. Being rich in antioxidants, it has excellent exfoliating properties which exfoliates and polishes the skin to make it soft and smooth. Coffee also helps decrease cellulite in the skin. It is well-known for its energizing effects on the body. Being SLS and paraben free, mCaffeine products cause no harm to the skin and body.
Can the contents of this gift kit be customized?
Our team is working on making customized gifting options available on our website. Until then, you can continue to impress your loved ones with our premium gift kits and combos.
Can the box be used for storage purposes?
The Coffee Mood - Gift Kit box can be used for storage purposes. The gift box is of premium quality and can be used for a long period of time without any damage.
More information on the product
Additional Information
Coffee Mood - Gift Kit By mCaffeine
Coffee is the fuel that drives everyone's creative mind. We like how coffee provides us with the energy we need to get through the day, and several health benefits for the skin and hair have been discovered, proving that this wonderful ingredient does so much more than just wake you up. The best way to introduce coffee infused products in your or a loved ones routine is through the mCaffeine's Coffee Mood - Gift Kit!
Like coffee, this gift set is suitable for many moods. The Coffee Mood - Gift Kit will definitely perk up the mood of your special someone with its assortment of coffee-themed face products. Coffee Face Wash, Coffee Face Scrub, Coffee Face Mask, Coffee Body Scrub, and Perk Up Towel.
Skin Benefits Of Coffee Mood - Gift Kit
You can depend on your daily cup of coffee to increase your energy and metabolism. Coffee is most commonly consumed as a beverage, but it's also gaining recognition as a solution for skin problems. This is because it contains antioxidants which work to combat free radicals that can harm the skin. Cellulite on the skin may appear less prominent after using coffee mood gift kit. The caffeine in coffee is believed to be the secret to reducing cellulite. In turn, this might aid in reducing the visibility of cellulite. Coffee Mood - Gift Kit has both anti-inflammatory and antibacterial effects. All of these advantages can help combat acne when combined with the natural exfoliation that coffee grounds provide.
Products Inside Coffee Mood - Gift Kit
There are 3 fabulous products inside the Coffee Mood- Gift Kit.
Coffee Face Wash
The Coffee Face Wash, which is packed with Pure Arabica Coffee, leaves the skin thoroughly cleansed and smooth! White water lily eases irritation, aloe vera nourishes, coffee thoroughly purifies, caffeine balances the skin, and seaweed lightens hyperpigmentation.
Coffee Face Scrub
Use the Coffee Face Scrub with Vitamin E to exfoliate and energise. Hibiscus tones, argan oil moisturizes, coffee and walnut exfoliate, and vitamin E improves skin elasticity and smoothens.
Coffee Body Scrub
The Coffee Body Scrub with Coconut is what your skin needs to obtain that caffeine-infused glow; it is brewed robustly to buff away dead skin. It contains coffee, which exfoliates, and coconut oil, which hydrates, nourishes and soothes the skin.
Coffee Face Mask
Discover energised and luminous skin by becoming addicted to Coffee Face Mask with Cocoa. Coffee removes tan, caffeine lessens puffiness, cocoa protects skin from drying out, argan oil moisturiser, vitamin E nourishes, and the mix of kaolin, Multani mitti, and bentonite clay tightens pores and gets rid of extra oil.
Perfect Gift Kit For Every Occasion
Give this interesting selection of Coffee Mood - Gift boxes to your loved ones as a surprise. The best coffee facial cleanser, coffee face scrub, coffee body scrub, and coffee face mask are included in this box. This lovely gift box of four coffee-goodness personal care items is perfect for everyone and all special occasions. This coffee mood gift box is your go-to whether it's for a corporate event, a loved one's birthday, or an anniversary. So what are you waiting for? Grab this perfect gift kit and uplift your and your loved ones mood!
Why Choose Coffee Mood - Gift Kit
Gifts typically provide happiness, but this specific gift also delivers a rush of coffee that unquestionably cheers the receiver up. This is a premium coffee skin care gift. The striking packaging of this coffee in teal will leave them impressed! No matter what the occasion, the Coffee Mood Gift Kit's contents are sure to leave them #AddictedToGood with caffeinated goodness. This makes the premium gift box apt for everyone!
Why Choose mCaffeine?
We are the first caffeinated personal care brand in India, and we provide young, aspirational youths with a wide range of products infused with caffeine. We are a vegan and animal cruelty-free brand with a PETA certification. We have attained Zero Plastic Footprint in an endeavour to do our bit for the planet. Our products have passed dermatological testing, have received FDA approval, are Made Safe, and are devoid of parabens, silicones, mineral oils, SLS and other harmful ingredients. We are against biases related to the body and skin. We use coffee, green tea, and chocolate, all of which include caffeine, to make premium, international products. Caffeine, which is present in coffee, green tea, and chocolate, has amazing effects on hair and skin care. Along with the coffee mood gift pack, we also sell various personal care products, body care products,face care products and hair care products that are coffee-infused.
You can also read our blog - 5 Ways to Make Rakhi 2022 Celebration Special
Choosing a selection results in a full page refresh.
Opens in a new window.