Instantly Hydrates | Moisturizes | Absorbs Quickly
Buy 1 Get 1 FREE at 7th Birthday Sale
Up to 7 FREE Gifts with Every Order
+ Exciting Prizes for 7 Lucky Winners Every Day
A tub full of nutty goodness that glides on your skin and envelops it with instant hydration while its inviting aroma leaves you longing for more! Coffee Body Yogurt with Almonds is a non-sticky, gel-cream formula that quickly sinks into the skin to moisturize deeply and provide lasting nourishment. The combination of Vitamin E, Squalane & Caffeine softens, soothes and has a cooling effect on the skin. Hold on to this tub and your skin will thank you!
36/36 users experienced that the product provided instant hydration to their skin.
36/36 users agreed the product is lightweight, non-sticky, non-greasy & absorbs quickly.
95% users agreed the product has an appealing fragrance.
95% users agreed the product soothed and nourished skin.
Read More
View full details
Why should you buy it?
Ingredients
How to use it?
FAQs
Reviews
You may also like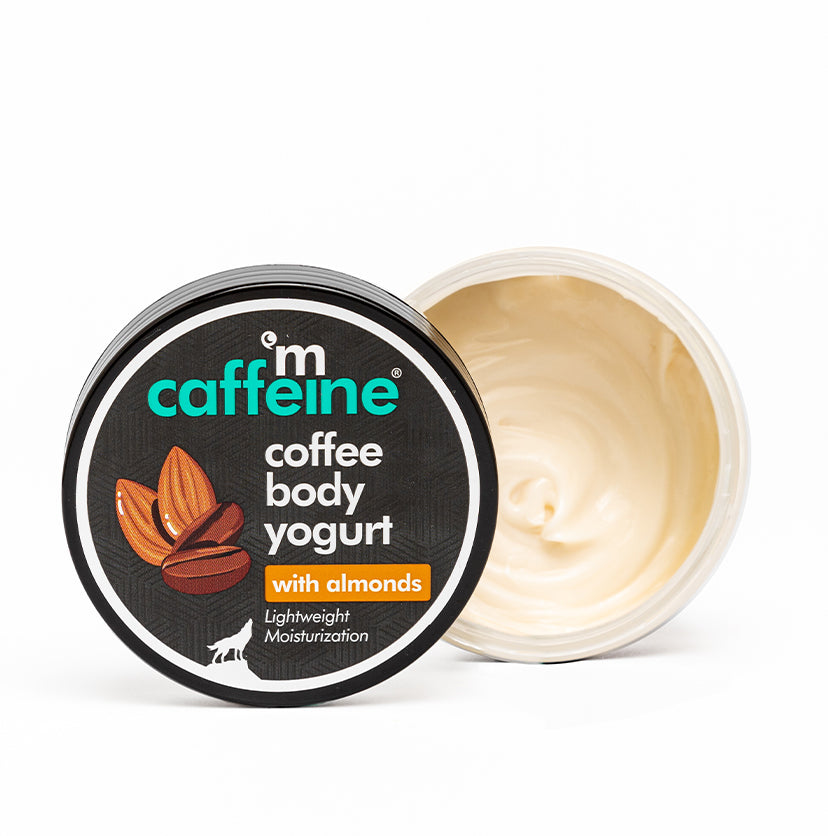 Rich Almond-Coffee Aroma
An aromatic blend of nutty Almonds and delicious Coffee offers the best of both worlds - deeply relaxing & leaves skin smelling divine.
95% users agreed the product has an appealing fragrance.
Instantly Hydrates & Absorbs Quickly
The non-sticky, gel-cream formula sinks into the skin quickly to provide instant hydration. Best buds Coffee & Caffeine, hydrate the skin leaving it refreshed & soothed.
36/36 users experienced that the product provided instant hydration to their skin.
36/36 users agreed the product absorbs quickly.
Moisturizes
Almond Oil with Vitamin E & Squalane lend deep moisturization leaving skin soft, supple & nourished.
Ingredients
Vitamin E
Skincare favourite Vitamin E, nourishes the skin leaving it soft, smooth & supple.
Almond Oil
Almond Oil moisturizes the skin deeply and repairs & protects the skin against sun-damage.
Squalane
Squalane supports the skin barrier, by moisturizing it and leaving it soft & smooth.
Coffee & Caffeine
The powerful blend of Coffee & Caffeine reduces appearance of stretch marks, softens & hydrates the skin, leaving it fresh & energized.
How to use
Use daily for moisturization & natural sheen
Step 1:
Apply Body Yogurt generously on cleansed skin
Step 2:
Massage it into the skin until fully absorbed
Pro Tip:
Use right after the shower for best results
Frequently Asked Questions
What is body yogurt ?
The texture of body yogurts are lighter than body butters. They are perfect for lightweight moisturization and instantly refresh & cool the skin. Body yogurts quickly absorb into the skin to lock moisture in.
When to use body yogurt in skincare routine?
Body yogurts offer instant and lightweight moisturization, they can be used any time your skin needs a quick dose of hydration. However, the best time to use body yogurt is right after the shower when your skin is still a little damp.
How does Almond Oil help the skin?
Almond Oil in this body yogurt offers multiple benefits. Apart from moisturizing the skin, it also repairs and protects skin from sun damage, leaving it soft and supple.
Is body yogurt better than body butter?
Body yogurt and body butter, both moisturize the skin. The difference is that the former is a lightweight formula and feels light on the skin whereas body butters offer deep and long lasting moisturization.
What is the difference between body yogurt, butter & lotion?
Body yogurt is neither too thick nor too heavy and sinks into the skin instantly to provide deep hydration and nourishment. It is preferably applied over damp skin. Body butter is made using natural butters and oils, has a thicker consistency and intensely moisturizes the skin. Body lotion has a semi-liquidy texture and is perfect for lightweight moisturization. All three are suitable for all skin types.
Does body yogurt cause any kind of skin irritation?
No. The body yogurt is suitable for all skin types and causes no skin irritation or any side effects. It's a natural blend of Coffee and Berries Extract that hydrates skin. The 100% vegan formula exudes a natural Coffee-fruity aroma that will pamper your skin and senses.